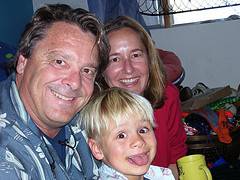 We are Mark and Tori Baird.
In 2004, we bought a home next to the Camp Pendleton Marine Base in California.  The current wars had started and we saw hundreds of young men and women everyday who were either going to war or who had just returned. We felt as if everyone we saw was our own son or daughter.
Then one night, a Marine knocked on our door. He had gotten back home to his wife and two kids. He discovered that while he was in Iraq and recuperating from injuries that his wife had lost her job, their family car and that their utilities had been turned off! – Despite his extreme fatigue and injuries, he acted immediately. – He dropped his bags and began walking down the street and knocking on neighbors' doors. He came to ours. "Sir," he said, standing as straight as he could. "Do you have any work or repairs that I can do for you so that I can get my lights turned on in my house again?"
His entreaty hit us like a ton of bricks! Our hearts broke. – We gave him some work and some money. But we also promised to think of something so that other Marines would not have to go this. – After several days of prayer, the idea came to us of creating a free website for local patriotic citizens to use to hire Marines when they needed help with chores and repairs around their homes and yards.
We asked around and found that web companies wanted many thousands of dollars to build the website we envisioned! But we did not have the money. And so we went to prayer again. – I asked the Lord if we should take a loan on our fully paid for home. Then the phone rang. – It was a realtor canvassing our neighborhood. "I have someone in my office who wants to buy a home in your area and I am calling to see if you are interested in selling your house." – A couple of hours later, we agreed to sell our home to the lady she brought over. And we used this money to build HireMarines.com and to pay for upgrades, job fairs, marketing materials, and marriage retreats, as well as for the hundreds of other things we thought of doing for our local warriors and residents.
It was money well spent! We helped tens of thousands of our local Marines, sailors and vets find part time and full time jobs, held a dozen job fairs with over 100 companies at each, hosted 6 marriage retreats, and several Welcome Home parties for returning regiments. – During this time a Rear Admiral in San Diego called us and asked if we could change the name of our website to make his sailors feel welcome: We became HirePatriots.com. – As well, we began a 501c3 non-profit, to collect donations for our many programs: Patriotic Hearts.
Today, our website ranks above 99.9% of all US websites. People from all across America visit HirePatriots.com. And we are rapidly establishing local HirePatriots sites in every state of our union.
My wife and I work from before sunrise to past sunset every day, trying to let more vets, residents and businesses know about our program.  We write, phone, social network, talk to TV and radio personalities, and speak at hundreds of clubs, organizations and chambers. – And to support ourselves and our efforts, we solicit for sponsors for our outreach.
Please consider pitching in and helping us to spread the word in your community. Contact us today.
Mark and Tori Baird
760-730-3734
Share us on