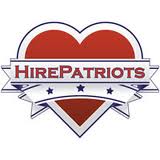 "Good Afternoon, I just wanted to let you know that I was very impressed with your service in regards to my job posting. Our job has already had 15 views, where my Monster.com posting has only had 3 since Friday. I will definitely be using your site more often when it comes to posting jobs because of this great experience!  — Thank you Lauren Briggs"
HirePatriots always goes the 'extra mile' to successfully connect qualified US veterans with the companies that post jobs on our site.
1) We are constantly upgrading our job board with the latest technological improvements in order to provide the fastest and most effective recruiting platform for businesses.
2) HirePatriots.com ranks in the top 1% of US sites. We make daily efforts to increase our web ranking in order to increase the number job seekers using our site.
3) We maximize your job posting via the social networks and traditional media, both locally and nationally. (This month we were featured in People Magazine and NBC Nightly News.)
4) In addition to our national job board, we provide local job boards for communities across America. HirePatriots is creating a nationwide jobs safety net for US veterans.
5) We provide job seekers training, focusing on resumes and interview skills and how to get face to face appointments with hiring managers.
6) We notify companies when we have a good candidate for their open positions.
7) We post blogs about companies that post jobs on our site and send them to all of our social networks.
8) We provide opportunities for businesses to be represented on US military bases.
9) We provide a developed and successful cause marketing plan for businesses.
10) Your job postings make it possible for us to provide 12 essential, free programs for US veterans and their families. http://bit.ly/Vy301d
Please post your jobs for US veterans and their spouses here: http://www.hirepatriots.com/sjb/
Share us on