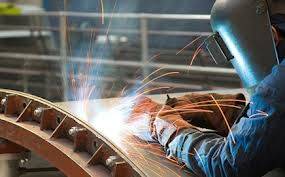 When you retire or ETS from the military, you may be worried about what you will do in the civilian sector. The economy is somewhat unstable right now, and the unemployment rate continues to hover around 7%, though it dropped below 6% recently, according to the 
National Conference of State Legislatures
. Jobs may be scarce, depending upon your location and what type of employment you are looking to obtain. However, one area that currently needs skilled, motivated workers is the welding industry. Whether you learned to weld during your stint in the military or not, welding is a great career option for you as you transition to civilian life.
Trade Skills Are Valuable
Forbes
 put together a list of the top ten jobs for veterans. Another recent study shows that trade skills are in high demand, and it is becoming increasingly difficult for some employers to find suitable employees. There are several 
reasons 
for this. For one, most employees that were trained in these fields are aging and leaving the work force. Nearly 20% of trade workers are over the age of 55 and are planning to retire in the next few years. Younger workers haven't become aware of the value of learning a trade. And the pool of qualified applicants may be limited depending upon the area of the country the job is in.
In addition, the housing market is back on the upswing in some areas, and welders may be needed to help keep up with the 
demand 
for new construction. Careers for those trained in welding are available in many areas of the country – you just need to obtain the training and skills necessary to do the job. And according to another recent study reported by 
CNN
, many workers skilled in a trade can make a five or even six-figure salary, depending upon the job and the area of the country they are in.
Little Education or Investment Required
Most welding programs will teach you everything you need to know in a year or less, so you can get started on a new career very quickly. In addition, these programs generally don't take a huge investment of funds, so they won't break your budget. There are also possible education benefits like those offered by 
Tulsa Welding School
 that you earned through your military service. These benefits include the 
Montgomery GI Bill or Post 9/11 GI Bill
. You may have the GI Bill Kicker if you were enlisted in a high-demand career field. If you remain in the National Guard or military Reserves, you may also have tuition assistance or other grants and funding available to you. Pell Grants and student loans can also help cover the cost of your education.
Build Upon Your Military Experience
Even if you didn't learn welding or another skilled trade in the military, you still have other high-demand skills and attributes as a result of your military service. Motivation, drive and focus are all things that employers in this field are looking for. You most likely pay close attention to detail and never miss a day of work or show up late for your shift. These are all important to prospective employers, so play them up on your resume or cover letter. If you do have welding experience, some unions will give you credentials if you choose to go that route. This may be helpful to give you the edge on getting jobs over other welders of the same skill level.
Share us on