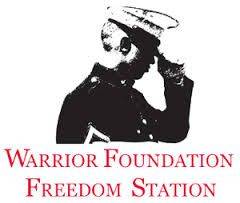 Patriotic Swimmers Go "Beyond Avalon" on a 76-Mile Ocean Swim to Raise Funds for Injured Warriors
Beyond Avalon's 12 Swimmers will Journey from Catalina Island to La Jolla to Benefit Warrior Foundation~Freedom Station
A group of patriotic ocean swimmers has joined together to create "Beyond Avalon," a 76-mile ocean swim benefiting Warrior Foundation~Freedom Station. Their mission is to raise funds for the San Diego-based nonprofit, which assists service members who were injured in the Iraq and Afghanistan wars, and are currently receiving medical care at Camp Pendleton and Naval Medical Center San Diego. Inspired by the bravery and honor of those who have served for our country, these swimmers will pay tribute in an amazing ocean adventure. They will depart from Catalina Island's famed city of Avalon on Friday, August 22 and arrive at La Jolla Cove on Sunday, August 24.  The Beyond Avalon team has been training every week in preparation for the swim, departing from La Jolla Shores and swimming out to sea.
"We are thrilled to be part of an ambitious adventure to help those who've contributed so much to this great nation and fought for the freedoms we enjoy every single day," said Will Miller and Lee Grove, co-founders of Beyond Avalon."Many of us have ocean swimming experience, whether in pursuit of open water races or physical and mental fitness. This 76-mile ocean challenge will be different. The swim distance alone is daunting, but is both a financial and symbolic way to let warriors who've been injured in battle know we appreciate the sacrifices they have made. The Beyond Avalon swim cannot erase the wounds, realities and daily struggles of our injured warriors. But it is our way to remember, thank, and honor those who have given so much and those who will continue to fight on. We hope the community will open their hearts and support our efforts by making a donation to Warrior Foundation~Freedom Station."
The Beyond Avalon swim team members include:
Chris Gibson, age 27, Athletic Strength Trainer and retired U.S. Marine Corps EOD Technician, San Diego, CA
Dan Henry, age 72, Immigration Attorney, San Diego, CA (U.S. Navy 1964-1968)
Dana Selles, age 31, U.S. Navy Pilot, San Diego, CA
Dave Speier, age 58, Business Owner, Bishopville, MD
Jonathan Hands, age 45, Business Owner, Oahu, HI
Jonathan Rodley, age 35, Ocean Lifeguard, San Diego, CA (U.S. Army 2010-2014)
Lee Grove, age 55, High School Science Teacher, South Mission Beach, San Diego, CA
Mark Zambon, age 29, Retired U.S. Marine Corps EOD Technician, San Diego, CA
Penny Nagel, age 43, Business Owner, University City, San Diego, CA
Steve Miller, age 42, Manager, Infiniti Car Company, Dallas, TX
Timothy Rayner M.D., age 45, Psychiatrist, San Diego, CA (U.S. Navy 1987-2004)
Will Miller, age 50, Attorney, Poway, CA
All proceeds raised by Beyond Avalon will benefit Warrior Foundation~Freedom Station. Donations can be made online at www.warriorfoundation.org; please make sure to notate "Beyond Avalon" in the description box. For more information, visit www.beyondavalon.org or follow the team's journey on Twitter @BeyondAvalonorg.
Founded in 2004, Warrior Foundation~Freedom Station assists four main groups of warriors: the seriously injured just returning home from war; those suffering from post-traumatic stress or traumatic brain injury; those undergoing physical or occupational therapy, and warriors who have been medically retired and remain in our community. To serve this last group in particular, the nonprofit pioneered a new approach and opened Freedom Station.  Located near Naval Medical Center San Diego, this unique transitional housing facility provides injured warriors with the acclimation time, guidance and resources needed to successfully transition from military service to civilian life.
About Warrior Foundation-Freedom Station
Warrior Foundation~Freedom Station aims to be the leading force in assisting, honoring and supporting the military men and women who have so bravely served and sacrificed for our country. We are committed to supporting our warriors in a variety of ways, providing quality-of-life items, support services and transitional housing designed to assist them and their families during recovery. Warrior Foundation~Freedom Station is a 501(c)3 organization operated by an all-volunteer staff. To learn more or make a donation, please visit www.warriorfoundation.org.
Share us on