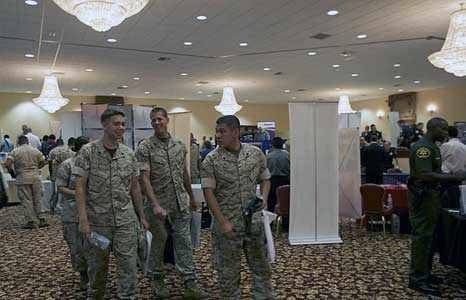 Patriotic Hearts, the non-profit that created the immensely popular HirePatriots employment program more than a decade ago, is hosting a job fairon 9/11/15 at the new Military Events Center across from MCAS Miramar in San Diego.
The economy has improved and many companies are back in the black and creating new positions within their companies that they need to fill. HirePatriots works hand in hand with such businesses to search, find and prepare qualified candidates to take these jobs. And because US veterans make up the lion's share of American entrepreneurs, we invite franchises and biz ops too.
HirePatriots.com has had over 1,000,000 job seekers use its website to view job listings and to get the advice they need to be prepared to be the right fit for those openings. We specifically seek to assist US veterans, most of whom are Millennials that have recently left the US military. Many of these have received their college degrees while serving. They are now eager to get their civilians lives started.
The value of military training is immense. The huge responsibilities that these men and women have responsibly performed has matured them beyond their years. They are prepared to do so many tasks that there are too many to number. US veterans are trained to handle highly technical electronics and machinery. They are used to long hours and know how to persevere until a task or mission is completed successfully.
Coming to our job fair will definitely be of great value to any company. But it is also rewarding personally. In the truest sense it is also the best way to thank them for their stalwart service to our country and the world.
Homeland Magazine and HirePatriots have joined together in order to better promote the companies that care about giving US veterans opportunities to prove themselves. That is all that they ask.
HirePatriots: (760) 730-3734: jobfairs@hirepatriots.com
Mark Baird
Share us on