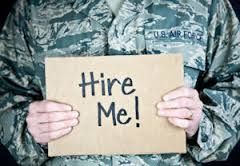 In recognition for the honorable service of 9/11 veterans, President Obama and Congress have created several incentives for US businesses to hire these stalwart citizens. — And if a company will hire a disabled veteran in the VA Vocational Rehab program, they can receive 50% of the veterans salary for 3 years!
Click her for information about the Vow to Hire Heroes Act of 2011. — The bill passed the House on a 422-0 vote
…………………………………………………………………………………………………..
These incentives are wonderful for employers and have created the desired effect: Many businesses are now clamoring to hire veterans. But it is also disconcerting because there should be no need for this incentive program: Most US veterans are worth their weight in gold as employees.
But HirePatriots is excited about and welcomes all of the companies that are now turning to us for help in their recruitment of these stellar veterans.
HirePatriots thanks US business owners that support their non-profit's efforts by entering into a synergistic Cause Marketing relationship with them. This includes giving these companies free TV, radio and press coverage, and creating opportunities for their representatives to speak publicly. They also receive their own, customized HirePatriots website, job board and blog. – It is our award winning Cause Marketing plan.
HirePatriots unique program for helping US businesses with employing veterans has won awards from both Presidents Bush and Obama, including the Visionary Award for Creating Economic Development.
HirePatriots offers businesses a strategic plan to help our veterans and to be rewarded for doing so. We are one of the most popular websites in America. – Besides having a free job board for businesses to hire US military, veterans and their spouses, we also have a One Day job board for residents to use. Citizens post the chores and repairs that they need help with, and then hire their local military personnel or recently transitioned veterans who are looking for work.
When your company receives a HirePatriots website, it is customized with banners, pictures, videos and information about your products and services. And it quickly becomes the most popular site in your area after we help you to spread the word throughout your region by getting you on TV, radio, press and having local veterans speak on our behalf to clubs, churches and organizations. — It is the most effective marketing strategy ever. It is Cause Marketing.
Please contact us if you want to help US veterans and your bottom line at the same time.
Mark Baird
HirePatriots.com
760-730-3734
Share us on