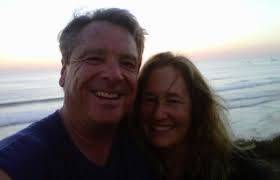 My wife, Tori, and I founded HirePatriots and have worked at it virtually every waking hour of everyday for the last 10 years. We are motivated by faith in a vision and empowered by a passion that provides constant strength and endurance. We are Christians and we are certain that this is God's plan and purpose for our lives.
To give you a glimpse of our daily lives here are some of the things we did this week:  We created and presented a 45 minute PowerPoint to the Specialized Carriers and Rigging Association, wrote a grant request and created a PowerPoint for getting HirePatriots started in the city of St. Louis, put together a job fair in San Antonio Texas with a great team of US veterans lead by our Texas ambassador, Doc Brown. Tori flew to San Antonio to greet the attendees at the job fair. I stayed in San Diego and was interviewed by Rick Amato on American One News Network. We also met with our Veterans Green Projects team and ironed out some wrinkles. Now I am re-reading my upcoming book for the umpteenth time and making it as perfect as possible before giving it to my publisher. (I keep remembering specifics that I should not leave out.) Tori is now in Houston attending a symposium for the oil industry. (They paid for her to be their guest.)
Today, I woke and wrote a blog, answered over 100 emails, sent veterans' resumes to employers with my recommendation, swam a mile, walked a mile, social networked, worked with our job board teams, worked with our webmaster, spoke with and set appointments with companies who have requested to find out more about our programs, worked on search engine optimization, wrote another blog post, and strategized with Tori by phone.
It is 10:30 PM in Houston right now and Tori is still working. So am I. We will begin again before sunrise tomorrow.
Tori and I have been on an incredible journey since staring HirePatriots in 2004. We are astonished at how God has used us. We take no pride in any of the amazing accomplishments. The Bible says that 'God takes the weak and useless things of the world and uses them to do great things so that he can be glorified in them.' We know that God is in charge. We just work here.
The only obstacle remaining that keeps us from achieving our mission are the funds to do so. But because we know that this is an outreach created by God, we are patient, knowing that our hardships and trials are designed to prepare us for better things and greater ministry in God's appointed time. He has taught us how to live by faith. And Tori and I are empowered by his Spirit to do the work of dozens each day until a nationwide jobs safety net for US military, veterans and their spouses is established throughout America. Amen!
Mark Baird
Share us on