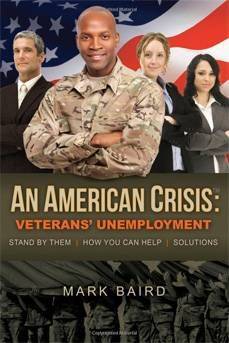 Stand by Them | How You Can Help | Solutions
Mark Baird
Whether you are Blue, Red or some other spectrum like me, this book should be read. It shares the American voices and ideas and answers from people in a variety of ethnicities, fields and experiences about one of these foundational pillars of our society: US military veterans.
It is time for a comprehensive and permanent solution to US veteran unemployment to be put into place for perpetuity. The technology of the 21st century allows us to do so. But the answers will not be implemented effectively if we leave it to our politicians and government bureaucracy. They have already had more than 200 years. So the intent and purpose of "An American Crisis: Veteran Unemployment" is to gather some of the leading visionaries and participants in veteran unemployment and to begin the construction of a viable and permanent pathway to full employment for US veterans. –This book is a forum of chapters authored by Americans dedicated to this end.
Read More and purchase HERE.
Share us on