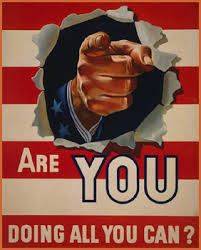 You have clicked on this blog post because you want to help. I appreciate that. There is so much to do. And our country and its veterans need your assistance. — The best way to begin is to start. HirePatriots' number one priority is to get jobs posted everyday for our US veterans: One Day jobs, Temporary and Full Time. This requires educating people about the cost our US veterans pay to protect us. We need to inspire and touch hearts. The best way to do this is with real stories. "Facts tell, but stories sell!" We need civilian advocates and veterans spokespeople to do this.
This is our conviction: We only trust people that we believe are honest and authentic, people who relate to us.  We will never follow people for very long otherwise. And we are looking for such leaders. We need Americans who truly care about our country and its veterans to inspire their neighbors and community to honor and support those who offer their lives to protect ours. And in order to earn peoples' trust, we need to let them know who you are and why you are passionate about this effort. Share your story, and share the stories of veterans that need help and those we have helped.  Help people to imagine them doing what you are doing too.
Our method is simple, start talking everyday to as many people as possible: pass out cards, put up posters in store windows, write blogs, speak at clubs, organizations, etc. Contact newspaper, TV and radio reporters and inspire them with true heart touching stories. This will sharpen your message and get people  to be as passionate as you are.
Retired US veterans and older people are particularly patriotic. Most have children or grandchildren the same age as young recruits, and we can imagine them being that person in uniform too. This thought occurs to me everytime I see a young vet, "That could be my own son or daughter." Many senior citizens own homes. And they are not able to do some of the things that need to be done. They love hiring veterans. Not only do veterans work hard, but they have learned military courtesy and treat people with respect. And if they are retired then they are great member and volunteer candidates.
Of course we want to get veterans sustainable, full time employment. So we need to get companies involved too. Many larger companies have an "employee volunteer" program. They are always looking for community service projects. Instead of just asking for them to post their jobs on HirePatriots.com, go further and get them involved in helping veterans on a grass root level by promoting One Day jobs. This will also get our foot in the door for Corporate Social  Responsibility funds that will enable us to help local veterans in many other ways.
We need people who know how to manage others. Former military officers have tremdous experience and expertise doing this. Plus, it is natural for veterans to follow them.  But this I know, volunteers need something to do right away. If you make them wait, they disappear fast. Keep them busy, show appreciation for their efforts and always have opportunities for them to become more involved and to share leadership responsibilities if they are able!
Our overall goal is to create HirePatriots chapters. We need a strong leader for each region.  Have a meeting at a restaurant once a week or twice a month. These meetings should have structure just like Kiwanis and Rotary clubs do. Songs should be sung, jokes told, and stories shared about what they did this week to help veterans. New members should be introduced and inducted in an entertaining way. And everyone should bring a guest. The number one goal of these clubs will be to get more jobs posted for veterans and their spouses. They can accomplish this by walking down business streets and asking stores if they can tape a poster in their window and leave some fliers on the counter. And they should try and get the store or company owner excited and involved  too. They can also put up card tables in front of popular stores, (grocery stores are great and other places like Home Depot etc.)
We do not need to focus much on informing veterans initially. Our first priority is to get jobs posted on that area's HirePatriots.com website. Having a good full time job is  our ultimate goal for veterans. But One Day jobs posted by civilians are just as critical! These jobs help veterans while in the military and during that difficult adjustment period when they get out. They also provide a means for military spouses to earn extra income when their significant other is deployed for months on end. — The more jobs we get posted the more veterans will be helped and they will spread the word among other veterans for us. — What we want to do with these chapters is to create a prototype for communities across America to follow.
We can also approach public and private schools. They are looking for community service projects for their students in order to build community awareness and to educate them about helping others. We will provide these schools with their own HirePatriots website. We will teach them how to post blogs, connect to search engines and to use social networks. We will get them to interview veterans and their children too. They will post essays and videos of their efforts on their HP site. And they will also become spokespeople and advocates for veterans by being on TV, radio and by speaking at clubs etc. These schools can all have their own HirePatriots chapter/club.
*** Note: It may be better to use the name of our non-profit, "Patriotic Hearts," instead of HirePatriots.com sometimes. We want to have shirts and badges with a patriotic image that say something like "I am a Patriotic Heart. Are you?"
None of this is complicated or hard to do. But it takes leg work and perseverance. So the more veterans that we can get to tell their personal story of service, sacrifice and struggle, the more people's hearts will be touched and changed. Our mission is to turn the hearts of America into "Patriotic Hearts."
Our mission is to provide a grass roots community effort all across America of citizens and companies providing a jobs safety net for their local veterans. And we also want to provide other important activites like job fairs, marriage and family retreats, welcome home parties for returning battalions, counseling, mentoring, etc. Through the sponsorship of area businesses and fundraisers held them and by volunteers our chapters will have the funds they need to make a considerable difference in their part of our nation.
Become a Patriotic Heart! We need your talent and patriotic passion to make America a better place for those that serve in our Armed Forces.
Check out our  segment on NBC Nightly News with Brian Williams: http://dailynightly.nbcnews.com/_news/2013/08/03/19836188-helping-veterans-find-work-off-the-battlefield?lite
And here is our feature in People Magazine: http://www.people.com/people/article/0,,20688680,00.html
You can also purchase our book: "An American Crisis: Veterans' Unemployment" by clicking this link: www.veteransunemploymentbook.com.
At your service,
Mark Baird
760-730-3734
People Magazine's Heroes Among Us
Past Chairman: CA Economic Council
Past Secretary: United Veteran Council
From President Bush: The Congressional Medal of Merit
From President Obama: President's Volunteer Service Medal
From San Diego: The Visionary Award for Creating Economic Development
From the Chamber of Commerce: The Extra Mile Award
From ABC TV: The Leadership Award
From U.S. Veterans & Families: Liberty
From Jesus Christ: Purpose & Eternal Life
Share us on