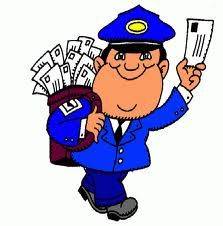 Here is a continuous announcement for postal carriers in Southern California. I was a mailman for awhile in my youth. It is a casual job that you do primarily alone. You go in and sort and organize the mail for your route(s). Put it into your bag, or tray if driving a jeep. And then deliver the mail. At the end of the day, you come back into the PO office and check out for the day. Great salary. Great benefits. Outside all day. No one looking over your shoulder. Plus, as a US veteran you get a 10 point advantage over anyone else that applies. If you want to live in southern California and have a good job, apply!
City Carrier Assistant:  Orange County Offices 926/927/928 Zip Codes
City Carrier Assistant:  Pomona/San Gabriel Valley Offices 906/917/918 Zip Codes
All applicants must apply on-line at www.usps.com/employment
Please print and place on all employee bulletin boards.  Share with EDD Orange County and All other EDD in the zip codes above to post. Thanks.
Spread the news to your community, organizations, veterans, family, friends and neighbors.
Jane Capps
Human Resources Generalist, Principal
Santa Ana District, CA
Share us on