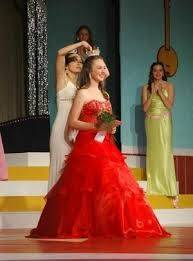 llow me to introduce you to a great American, Autumn Simunek. She will be in the Miss South Dakota Beauty Pageant this June 18 — 21. HirePatriots is so proud to have Autumn on our team. She is an outstanding role model for America's youth. 
HirePatriots is particularly proud of Autumn Simunek. She is our 21 year old, South Dakota HirePatriots Ambassador. Autumn is certainly a "Type A" personality. When she has a dream, a cause or a passion, she pursues it!
Autumn is a great-grandchild of a World War II Veteran, a grand-daughter of a Korean War Veteran, and cousin of two active service members. Autumn was an advocate for our veterans as an American Legion Auxiliary National Senior Miss Poppy 2006, and as Miss South Dakota's Outstanding Teen 2007, promoting her patriotic platform "5 Stars for Serving Those Who Served." She also volunteers at the VA Black Hills Health Care System.
Autumn has gone the 'extra mile' many times for our US veterans. She took the initiative to contact us and to become our spokesperson for her state. South Dakota'sVeteran's Holiday Relief Drive, was founded and organized by Autumn Simunek, Miss Siouxland. This relief drive has raised over $20,000 in relief items and monetary donations, benefiting Veterans, service members, and military families across South Dakota.
Autumn is also an activist that encourages Americans to remember and support the children of our veterans. Recently, she began a drive to get everyone in America to wear purple on a certain day in appreciation of "military kids."
Tori and I are honored to be a partner with such extraordinary Americans as Autumn, and all of our other HirePatriots participants.
Visit Autumn's HirePatriots website: www.hirepatriots.com/south-dakota-ambassador
Share us on