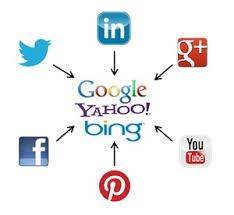 Blogging: SEO and Social Networking
When you create a 'post' on your blog you can send it to as many social networks to which you belong. It can be posted on 50 LinkedIn groups. It can "liked" on Facebook and sent to other Facebook pages and friends. It can be 'retweeted' on Twitter. Every time you use your blog to post copy, a picture or video it can be sent to multiple Internet locations where millions of people have the opportunity to click it and see your message. There has never been a better way to reach so many people.
Search Engines:
Titles, Tags, and Meta-Descriptions" are the keys to being discovered on the Internet. Photos, videos and blog posts allow you to add these powerful bits of information. I am by no means a technology expert and this metaphorical explanation will prove that again. – The "search engines" (Google, Yahoo, etc.) release trillions of "bots" into the Internet. These scour every recent blog post, picture and video everywhere in the world continually. This is "new content." That is the main purpose of search engines: to provide the most recent information and all the images associated with them. The 'bots' find this new stuff and then try to figure out if it is valuable and worthy of being referenced on the search engine that sent them. The next task of these bots is to figure out what searches should receive this information. If the picture, title, video or post is about "cars," the bots will list it in that category. When someone types in "cars" on Google or anyother search engine, it will be on one of those pages.
Google's first page:
Google, Yahoo, Bing, and many more such sites are 'search engines.' We all go to these sites to find information that is posted on the Internet. We search for people, things, places, products and services. These engines give us thousands of pages of results. But whoever goes to page 1000? Nobody does. Almost all of us scroll down the first page, click on something and then move on from there. The numbers of people who search any further than page 3 on a search engine are almost non-existent. So it is important to have a blog post that will be listed ahead of all the other sites sharing similar information. And there are definite ways of making that happen often.
One way to be found on the first page of Google and such sites is to buy advertising on these search engines. Another way is to pay a company. That way when you post your blogs sometimes they will get found on the top 3 pages when using a specific keyword. But that expense is not necessary. Your HirePatriots website will make the likelihood of your information's appearance at the top of search results a regular and automatic occurrence.
Two important criteria that search engines use to determine what information is listed first are the popularity of the originating website, and how often does that site produce new content and fresh information? HirePatriots.com is already a very popular web destination. And every time a new blog or a new job is posted on the site, it is considered 'new and fresh content.' So you have those two things covered from the start. And to make your chances even better, we will show you how to 'tag' your blog posts with keywords that will also greatly increase the number of times your information will be found on the Internet.
If you did not add other 'keywords' to assist these bots in further understanding where to post your content then it will probably be listed on some page so far back that it will never be seen by anyone.  For instance, a search for the word "cars" will give you a variety of unrelated results on automobile pictures, sales, technology, news, parts, a band, a movie, a Disneyland ride, and a new method of propulsion invented by a teenager. There are 583,000,000 search results. Almost everyone just looks at whatever shows up on the first page. Some may go a few pages more. It would be incredible if what you posted was indexed on these pages if you did not add "tags" to it. Tags are keywords or phrases that help the bots to list what you post more specifically. If you wanted to find the Disney movie "Cars," you would most likely type those words into the search bar. You would not find the teenager's new invention on this page, it would just be page after page of details, news, videos, pictures, toys and reviews directly related to that movie: the Disney movie "Cars."
Google has a website that will tell you what keywords are commonly used for various subjects. There are other sites like this too. They tell you what words people use to do a search for your topic, and what words other people are using when they post information about your topic. Checking the words you have chosen to help the bots list your posts correctly only takes a few minutes. It is always well worth the extra few minutes. What I always look for are search words that people frequently use to find information about my subject, but words that other posters are not using when they send their information to search engines. Almost always you can find at least a half dozen of such key search terms that hundreds of thousands of people are using to search for content related to yours that no competitors are using. That makes the haystack much smaller and your chances of appearing on Google's first pages very high.
Share us on