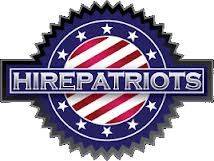 Here is some information about HirePatriots and our recruiting and cause marketing methods.
Hello, I am Mark Baird, the founder of Patriotic Hearts, a 501c3 for US veterans and HirePatriots.com, one of the most popular web destinations for job seeking, active and former US military personnel. I am the author of An American Crisis: Veterans Unemployment, one of the top 10 business books in America; and, I recently wrote The Patriotic Business Plan: Strategies for Sensational Success, which comes out in October 2014. This book is specifically for US businesses that need to recruit US veterans and that want to market themselves as "veteran friendly."
Our primary mission is to connect the right US veterans with the right companies. We do this in a variety of ways: our job boards, blog, social networks and premier HirePatriots memberships. We also offer targeted hiring events.
We work closely with companies that want to hire US veterans. They send us the information about their company and the descriptions and compensation for their open positions. Then we go to US military bases and recruit the veterans that are transitioning, who meet all of those qualification and who are eager to work for your company. We also work closely with veteran organizations and the Labor Department to find you the right candidates. We bring them all to a venue so that you can present to them and begin the hiring process. We can hold these anywhere across the US at locations near a large military bases. We are currently scheduled to hold two of these events, one in San Diego and another in San Antonio. Please see our options for attending HERE.
We have developed a unique cause marketing strategy that helps businesses recruit veterans and market their company in many ways that go far beyond standard methods. The HirePatriots cause marketing program has won several significant awards: From President Bush, the Congressional Medal of Merit; from President Obama, his Presidential Service Medal; the Visionary Award for Creating Economic Development; the Leadership Award; and we were ranked in GI Jobs' Top 50 Most Military Friendly Businesses.
We were just featured in People Magazine, and Brian Williams at NBC Nightly News recently filmed a segment about HirePatriots.
Mark Baird
CEO: HirePatriots.com
Chairman: Patriotic Hearts
People Magazine's "Heroes Among Us" 
Share us on