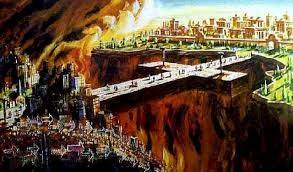 We are all born selfish. It is this survival instinct to seek our own self-interests that runs the world politics and economy. Look where that attitude has gotten us. Our world is full of war, death, poverty, hunger and suffering. Our ecology is dying because of our narcissism. And with nuclear weapons, we are always on the brink of annihilation. One has to be blind, deaf and a dunce not to realize the way we are running the world is not working. And yet, every day we continue doing "business as usual."
There are two ways of living in this world in order to be happy: We can live for ourselves, always looking out for our self; or, we can become servants of others and live for their happiness. Which is more fulfilling? Which will save our planet and give our children a far better world on which to live?
This is the Easter holiday. It is a time to celebrate Jesus Christ rising from the dead, receiving an eternal body and going to be with his heavenly father. It is the recognition that we can all be transformed and begin to live a new life. The example of the caterpillar and the butterfly applies. It is within our grasp, all we have to do is chose to change.
Tori and I run a non-profit for all Americans that focuses on assisting our US veterans. We create new ways of solving veteran unemployment, assisting vet-entrepreneurs; and, we hold military marriage retreats. We counsel, write, speak, and work every day focusing on helping as many Americans and veterans as possible.
It has been expensive doing this. Although we have won many awards, received voluminous media attention and helped well over 100,000 Americans, donations are few and never enough to cover the expenses of our efforts.  We have reduced our expenses and our life style to the barest minimum in order to continue lifting up others. – I admit, we did not plan on lowering our lifestyle when we began. It was not a conscious decision. It happened along the way.
We sometimes receive criticism about our choice to keep our efforts going from every direction: family, friends, acquaintances and business associates; even from some of the US veterans that we help.  Very few understand our reasons for sacrificing home, properties, possessions and comfort to serve others so that they can have what we do not.
I explain it like this: "Tori and I are in the grip of God." Jesus was once asked by a rich man, "What must I do to enter the kingdom of God?" Jesus replied, "Sell all that you have, give it to the poor, and come follow me." – Tori and I are convinced that we are 'called' to serve others as we do. Our focus is not on money. We leave that to God. Instead, we focus on helping those that he leads our way. And for eleven years of living by faith, God has always supplied. Admittedly, we live a sparse and simple life; but, we also experience more fulfillment, happiness, and satisfaction than ever before in our lives. – It no longer matters to us what the cost is, we are dedicated on moving forward, doing the best to lift up whoever God puts before us each day. He has made us into servants of others, instead of serving ourselves.
I am not saying that our lifestyle is what everyone should be doing. Certainly there are many godly people who are wealthy. But regardless of the position in society that God has us, we all have the same calling. – This is what the Bible teaches us: Serve each other; forgive others; respect everyone; consider others as more important; practice love for all people.
On this Easter I pray for God's kingdom to come; for his will to be done, on earth as it is in heaven. This is the Way to true life. It is the only way we can save ourselves and the planet upon which we live.
Celebrate Easter: Embrace new life!
Mark Baird: HirePatriots.com: 4/4/15
Share us on