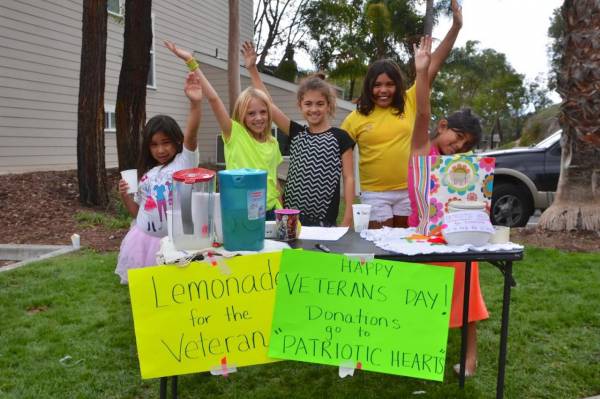 This is a picture of neighborhood children in Laguna Beach, CA selling lemonade to raise funds for Patriotic Hearts, the 501c3 of which HirePatriots is the veteran employment program. They raised $100 on Veterans Day and donated it all to let veterans know how much they care.
HirePatriots is a community program. Schools, civilians, businesses, organizations, clubs and churches can all participate. HirePatriots creates local community chapter websites that have a blog for local patriots to share positive things about their community, America and especially our US military, veterans and their spouses. This is a great opportunity for schools to have a patriotic community project for their students too.
Local community HirePatriots websites also have a free One Day job board. Residents and businesses use this to hire their neighbors who are serving or have served in the US military when they need help with chores and repairs around their homes and yards. This is a big help to active duty veterans. It also helps transitioned veterans who are looking for sustainable employment to earn some extra income on the side. Chapter sites also have a Careers job board for companies to post jobs for veterans. Read some comments from residents and veterans who use the site HERE.
The mission of HirePatriots is to create a nationwide, grass roots, support system and employment safety net for our veterans and their spouses by providing patriotic community websites all across America. We customize these websites for each group, business, church, club or organization that participates. Every association, organization and business with patriotic members and employees should have one. We build them for free and ask local businesses, churches, and municipalities to sponsor them. Their funding pays the costs of maintaining the sites and provides the means to host events, and fund other patriotic projects that enhance of a love of God, country and veterans in the community.
As founder of Patriotic Hearts, I have written a book that shows people how to create this great community program in their area: The Patriotic Business Plan: Strategies for Sensational Success. It is  step-by-step guide. I have also written An American Crisis: Veterans Unemployment. This is for veterans deciding what to do when they return to the civilian world, and for businesses that want to hire them.
Patriotic Hearts also provides free, 3 day military marriage retreats, job fairs and welcome home parties for our US military. And we assist veteran job seekers everyday in a variety of ways, most importantly by getting them sustainably employed. Read more about our program in this feature about HirePatriots done by People Magazine: Click HERE.
Patriotic Hearts is supported by donations. We also assist businesses in marketing and recruiting in return for their support. And we write copy and books for businesses and individuals too. Please give us a call or drop us a line anytime: 760-730-3734. hirepatriots@gmail.com And if you are able to pitch in and help us financially, please donate HERE.
Mark Baird
Share us on