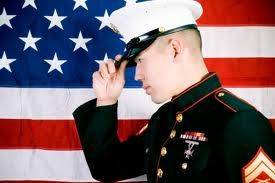 The most effective social networking will always be grassroots, people sharing with their friends, neighbors and colleagues. In my case the growth of HirePatriots.com is largely due to just that. This is an example of how it happens: Let's say an elderly widow, a senior citizen, is cleaning her house and garage and needs a lot of boxes and heavy stuff taken to either the dump or to a storage facility. She cannot do this chore herself. She needs at least one strong man, maybe it had better be two men. She posts the job for free on HirePatriots.com. She describes the job, how much she can pay, what day the work needs to be done, and then leaves her city, name and phone number. A few minutes later a local veteran looking for work on HirePatriots.com gives her a call.
The conversation goes something like this: "Hello Ma'am, my name is Sam Eller. I am a Corporal on the base nearby.  I am off duty on the day you want your work done. I really need to earn some extra money. My wife just had our first baby. And if you need someone else, I've got a lot of friends on the base. I know some would like to do some extra work too, if you need me to bring someone else." — The citizen then gives Sam the address and sets the time for him and a buddy to come do the job.
The next day, right on time, the two veterans show up and knock on the door. The citizen answers the door and finds two clean, local young Marines standing there, straight as two boards. " Ma'am," they both say in unison, "Good morning, Ma'am." Then they help the lady with her cleaning and storing for the day. They work very hard and she worries that they might hurt themselves. But they assure her that the work is nothing to what they are used to, and keep on until they are finished with everything she wants them to do.
The lady pays them at the end of the day. She even gives them more than what she said because she was so impressed with their courtesy and ceaseless labor. After the two veterans leave, the senior citizen begins calling all of her friends and telling them about her day and especially about the wonderful US veterans that helped her. Her neighbors now want to hire some veterans too.
Meanwhile, the two veterans are also happy. Now they can pay some bills that were weighing down on them and their families. Some stress has been relieved. Their wives are happy too. And then they tell their friends and buddies and they begin looking for jobs on HirePatriots.com too. — The cycle of citizens and veterans helping eachother keeps spinning on and on.
I started HirePatriots.com in San Diego, CA nine years ago. Then I left the area and moved many miles away for a three years. But when I came back the jobs were still being posted by citizens on the site. And dozens of local US veterans everyday were finding a way to pay bills and feed their families. HirePatriots One Day job board ran by itself and still is.
PLEASE POST Your One Day JOBS HERE: http://hirepatriots.com/day-job-board
If you want to get a HirePatriots.com site for your local area, please give us a call. It does require some initial passing out of cards and fliers and giving some short talks at clubs and chambers to get the One Day Jobs perpetual engine running. And there are some costs involved, so if you can find a business sponsor or more that will make everything really easy.
And if you are a company that want to hire US veterans, please post here: http://jobs.hirepatriots.com/
Mark Baird
CEO: HirePatriots.com
Chairman: Patriotic Hearts
760-730-3734
Share us on