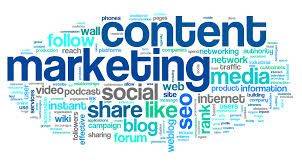 If you are a small business owner, chances are you'd love to break through the barrage of marketing messages competing for your customers' attention. How can you cut through all of that noise to have your own message heard? — Try content marketing.
What is content marketing? Content marketing allows you to communicate with your target customers without selling. You can attract customers without pitching your product by simply sharing relevant, useful information that is of value to your market.Post a Job!
Why does content marketing work? Content marketing educates potential buyers on services, products or business intelligence that is relevant to them and that your company happens to offer. It helps to position you as an expert. The more customers view you as an expert, the more likely it is that they may do business with you in the future. The ultimate intent is to get the prospect to buy from you. Rather than tell prospects about how good you are, show them. The key to successful content marketing is to offer value.
Content marketing also works because people will share information they find useful. What happens when you read a blog post that is really interesting? Perhaps you pass the link on via LinkedIn, Facebook, blog posts, YouTube and other online forums. Take a look around — how much content marketing do you see that is being shared?
Popular formats for getting your content in front of a key audience include white papers, blog posts, videos, webinars and e-books. Some experts take their writing further by becoming speakers at clubs, meetings or organizations to present on a specific topic. Once you develop great content, you can repurpose it using different media or venues.
For content marketing to be successful, it is critical that you share relevant, timely content or content specific to your prospects. For example, take the Jell-O strategy. The company provides free cooking tips and online recipes that require you purchase its product. What does it take to prepare a dessert from a Jell-O cookbook? Jell-O, of course!
How do you determine what content you should publish? Consider what you want your prospects to know about your business and what actions you want them to take. What do you want to teach your prospects? What is it you would like them to do? Be sure your content is carefully planned, concise and well-articulated. Your image depends on the professionalism you can display. If you don't have the time or ability to create worthwhile content, consider outsourcing the task to a content-marketing firm.
And don't forget a call to action — remember to ask customers to take the next logical step. Ask them to share your white paper or share a link to your podcast. Ask them to sign up for a free weekly newsletter, join you for a free webinar, call you for more information, or engage in some other way that helps build a relationship with you.
Get started now. What one action will you take today to get started on your content marketing?
Mona Singleton, CCBC, PMP is a certified corporate business coach and certified project manager. She is a contributing author to "An American Crisis: Veterans' Unemployment," a book written by veterans for veterans.
Share us on