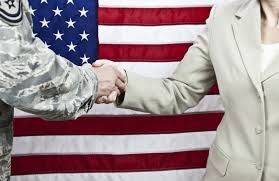 HirePatriots is convinced that a comprehensive solution to US veteran issues must include civilian citizens too. Civilians must be educated about the realities of our veterans' training, experiences, commitment, sacrifices and value to our American way of life. And this education should begin with our U.S. school children.
HirePatriots provides complete websites to companies, organizations, municipalities and to schools. These are HirePatriots sub-domains that contain sliders, banners, blogs, videos and pictures. These sites are self-manageable. The content on these sites is controlled by these groups in coordination with the HirePatriots web team. The HirePatriots sites blend its program information with local job postings and local information about veterans, patriotic events, patriotic essays and stories and interviews with US veterans and their supporters. HirePatriots gives ongoing instruction to these entities on how to manage their sites, including, blogging, video-taping, writing, and interviewing. And we teach them how to tag, meta-tag, write meta-descriptions. And then we teach them how to post their work on the social networks and search engines.  – It is through such wide spread education and participation by the entire US populace that US veteran issues will be properly addressed and solved through web-based technology.
By incorporating a much wider involvement of companies, schools, clubs and organizations in supporting their active duty and retired US military personnel through the non-profit, Patriotic Hearts and its veteran hiring program HirePatriots.com, we are able to establish computer centers at various schools and companies to train and incorporate the efforts of volunteers to greatly assist and enhance the lives of US veterans and their families. – Together, we can spread this America-enriching program through every state and solve US veteran unemployment and address all of the hardships faced by local troops through the support of their community.
Contact us to start a community changing patriotic program for your company, organization, club or school.
Check out our  segment on NBC Nightly News with Brian Williams:http://dailynightly.nbcnews.com/_news/2013/08/03/19836188-helping-veterans-find-work-off-the-battlefield?lite
And here is our feature in People Magazine: http://www.people.com/people/article/0,,20688680,00.html
You can also purchase our book: "An American Crisis: Veterans' Unemployment" by clicking this link:www.veteransunemploymentbook.com.
Mark Baird
CEO: HirePatriots.com
Chairman: Patriotic Hearts
mark@hirepatriots.com
760-730-3734
People Magazine's Heroes Among Us
Past Chairman: CA Economic Council
Past Secretary: United Veteran Council
From President Bush: The Congressional Medal of Merit
From President Obama: President's Volunteer Service Medal
From San Diego: The Visionary Award for Creating Economic Development
From the Chamber of Commerce: The Extra Mile Award
From ABC TV: The Leadership Award
From U.S. Veterans & Families: Liberty
Share us on