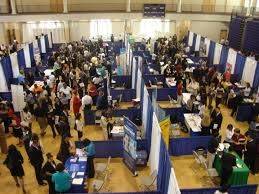 Earn a Good Living Helping Others
Producing a job fair for local job seekers and US veterans is a very rewarding thing to do. Helping others is the best way I know of feeling better and sleeping well at night. It is also a great way to earn a living. HirePatriots has held many job fairs. We typically get several thousand job seekers and over 100 companies to attend. Do you want us to show you how to do the same where you live?
The two main things you must accomplish in order to be successful is inviting companies to attend and letting local transitioning troops and other job seekers know about your event. People looking for employment need to meet lots of companies in order to find the right fit. And it is the same with businesses: They need to interview a lot of people in order for them to find the right new employees to fill their positions.
You also must pick a popular and convenient location to hold your event. And you need to provide tables, chairs, tablecloths, beverages, and lunch. By being a non-profit or by partnering with one like ours, your costs are greatly reduced. Much of everything you need will be donated or provided at a fraction of the price otherwise.
Your main job after securing the event location and necessities is to keep letting businesses know to insure that they attend. The more that do attend then the more jobs seekers will too. So the first thing to do is to invite companies.
Businesses attend job fairs not just to interview potential new hires; but, they also attend for the publicity. They need to see their banner and company info spread out all over the Internet. They also really love seeing their banner and info in print. The more ways you can promote them, the more will attend and pay you well for doing so.
On average, companies that attend job fairs pay between $750 and $1500 to attend and to receive the accompanying publicity. If done properly, filling any size venue is not very difficult. It does require a lot of work. But the financial reward is very good! It can be done by two people or more. But you have got to know what to do and how.
Let's put on an event together. We will mentor you and provide the support resources that you will need: A website, booth packages, promotions, print, leads, call scripts, letters, agreements, etc. – Give us a call and let's get started.
At your service,
Mark Baird
ceo@hirepatriots.com
760-730-3734
People Magazine's "Heroes among Us" 
From President Bush: The Congressional Medal of Merit
From President Obama: President's National Leadership Medal
From San Diego: The Visionary Award for Creating Economic Development
From the Chamber of Commerce: The Extra Mile Award
From ABC TV: The Leadership Award
From U.S. Veterans & Families: Liberty
From Jesus Christ: Love, Joy & Life
Author: An American Crisis: Veterans' Unemployment
Author: The Patriotic Business Plan: Strategies for Sensational Success
Share us on