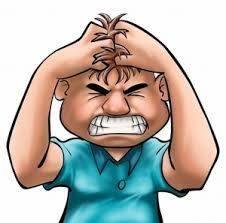 I read Proverbs today. It is a book of wisdom written by King Solomon about 3,000 years ago. The passages about anger stabbed me in my heart and convicted me. I get angry at people, especially those that lie to me and steal from my non-profit. I just blasted a business owner who has done his best to take from HirePatriots without providing the support he promised. I should not have done that. According to Proverbs "harsh words make tempers flare." And getting that person as angry at me as I am at him will produce no good. Once again Solomon says, "An angry person stirs up conflict, and a hot-tempered person commits many sins." And I already know this one by heart: "A man's anger never accomplishes God's will."
So often God requires us to do the opposite of what we instinctually want to do. Jesus says, "Love your enemies. Do good to them that use you wrongly. Pray for them. Bless them. By so doing you will become a child of God. If you only love those that love you how are you any different than those that do not believe." But this is not a natural response. It takes self control and discipline. It requires a willingness to submit to a wisdom that is not of this world, NOTW.
This also applies to my personal relationships. Everyone will disappoint us and let us down somehow, someday. And if you are married there will be more opportunities for this to happen than with anyone else. I have been married to Tori for almost 25 years. And too often I have chosen the wrong path to take in dealing with this most important person in my life.
The path we follow being believers in Jesus Christ is not an easy roadway. It requires constant sacrifice and swallowing of pride and denial of natural inclinations. It is a life long effort. Most of us will fail more often than we succeed. Thankfully, God is always willing to forgive and to give us another chance if we ask earnestly and try again.
I apologize to all those I have offended with an angry response. Forgive me. I will try to do better from here on. My daily effort is to be more like Christ and not to be a 'natural' man. My purpose and mission in this life is to serve U.S. veterans and their families. I cannot permit any character defect of mine to interfere with that calling.
Mark Baird
Share us on