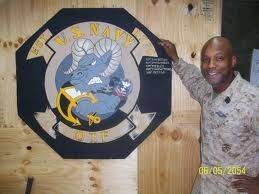 HirePatriots is very proud to introduce our new Texas leader: Cedrick "Doc" Brown (US Navy). He possesses great leadership talent, honed by serving for more than two decades in the US military. Cedrick has just retired and is now eager to begin his civilian career as a leader in creating HirePatriots' Jobs Safety Net for Veterans in his state and across America.
Doc is a retired Hospital Corpsman. After 20 yrs. and 2 combat tours in Iraq, his awards include the Presidential Unit Citation, 4 Navy and Marine Corps Achievement Medals, and Global War on Terrorism Combat Operations Medal. He is an accomplished instructor, has leadership skills, and knows the value of discipline from the Marine Corps.
Cedrick was stationed in San Diego several years ago and took jobs from our site to augment his family's income. He never forgot the great help it provided, and on leaving the Navy he contacted us and asked if he could help. And he has! Doc is a Go-Getter. He works as quickly and as powerfully as a round shot from a cannon. We are so excited to have this exemplary veteran be a leader of our cause.
"Doc" Brown has assumed the duties of HirePatriots Development Director. He works tirelessly to support and to spread our cause. He is creating HirePatriots chapters, coaching, training and speaking. And he is building a team of supporters that want to pitch in but that need to earn an income while doing so.
Please contact Cedrick "Doc" Brown if you want to join HirePatriots in any capacity. And if you are seeking a speaker for your business, school, club or organization in Texas, "Doc" is a great speaker! And he is also available for media interviews.
Texas@ hirepatriots.com / 518 530-1468.
Share us on