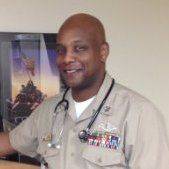 Cedrick "Doc" Brown has 20 years leadership experience and has faithfully retired from the Military. He is a United States Hospital Corpsman who has served with the United States Marine Corps for most of his career saving Marines on and off the battlefield. After faithfully serving in 2 combat tours in Iraq and leading a medical effort for nearly 1,000 Sailors and Marines he now faces the toughest challenge of his career: the challenge of Life after the Military! His awards include the Presidential Unit Citation, 4 Navy and Marine Corps Achievement Medals, and Global War On Terrorism Combat Operations Medal. He has been an accomplished instructor, has leadership skills, and has learned discipline from the Marine Corps. Cedrick has still found it tough to land a reasonable job offer. So what does a US veteran with 20 years of finding a way to complete every mission do?
Since leaving the US Navy about 7 months ago he has had some very hard trials and also extraordinary successes. The first difficulty he faced was several months of delay before receiving his first retirement check. Like so many veterans he just assumed that his check would arrive promptly, just as when he was in the US military. Now he knows first-hand what it is like to deal with the under-funded, over-worked Veterans Administration with processing technology installed in the 1970s! This turned him and his family financially upside down almost over-night. But combat veterans are experienced in unforeseen circumstances that pose difficult challenges. What did Cedrick do?
Joshua Galle, a US veteran and an author of An American Crisis: Veterans Unemployment shared a simple credo that is shared by most US veterans: "Adapt and Overcome." It was profound and it has stayed with me. That is what Doc Brown did:
1) He started a non-profit with the mission of providing free cell phones and wireless service to E-1 to E-3 US military and their military branch counterparts. Check out Wireless for Heroes.
2) He became an ambassador for HirePatriots.com in San Antonio and created a community website and job board for its residents and businesses: HirePatriots.com/San Antonio.
3) Doc created a job fair for San Antonio military and veterans at one of the most popular entertainment spots in San Antonio, the Cowboys Dance Hall. He made it entirely different than anyother military job fair. He has provided food, drinks, music, bands, games raffles; and, he is even going to sing to the veterans himself! Check it out: San Antonio HirePatriots Job Fair.
4) Cedrick has also begun his own Texas Veterans Green Projects business. He is collecting e-waste from businesses so that he can begin hiring US veterans as e-waste recyclers.
5) At the same time, Cedrick "Doc" Brown is still looking for a leadership position in a company so that he can utilize his 20 years of executive experiences. He can be contacted at Cedrick@hirepatriots.com.
Share us on