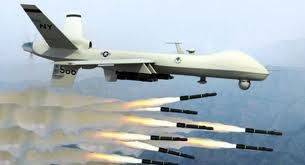 Sen. Rand Paul, R-Ky. asked this question to Attorney General Eric Holder: "Does President Obama have the power to authorize lethal force, such as a drone strike, against a U.S. citizen on U.S. soil, and without trial." Our current Attorney General replied, "It is possible, I suppose, to imagine an extraordinary circumstance in which it would be necessary and appropriate under the Constitution and applicable laws of the United States for the President to authorize the military to use lethal force within the territory of the United States,"  More briefly, he answered "Yes."
Before a dam bursts, it begins with a small leak. Americans must be vigilant about our rights and what is taken from us drip by drip.
I think that we all can imagine a scenario when we would not mind our government using a drone. What if some terrorists were about to ignite a nuclear bomb? Stuff like that. But what we also must realize is that once it is permitted then what if was permitted for use against leaders of a political party that an incumbent President considered a threat? Imagine things like that too.
Remember, the Attorney General said it would be permitted without due legal process: "without a trial." Where does it stop once the door is opened? In these dangerous days these are issues and answers we must carefully consider.
Mark Baird
http://washingtonexaminer.com/article/2523319
Share us on