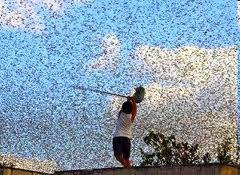 Egypt is used to locusts. It happens often. But this year is different. They are calling it a 'plague' of locust. It is somewhat ironic that this is happening at approximately the same time period before the Jewish Passover as it occurred in the Bible.
The Jewish 'Passover' refers to the last plague that Jehovah sent upon the Egyptians before the children of Abraham left for the Promised Land. The Jews took an unblemished white lamb and put its blood on the doors of their homes in the shape of a cross.That night a death angel went throughout Egypt and the first born of every family that did not have the sign of the cross on their door died. Once again, this was another prophetic sign of the  Messiah (Jesus) who would come someday and die in our place for our sins. He took upon himself the punishment we deserve.
I am a sinner. No matter how hard I try, I miss the mark of perfection everyday. Thank God that my sins have been washed away and that I am now seen as holy in the eyes of God because of what his Son did for me! Jesus is my Passover lamb.
Mark Baird
Share us on