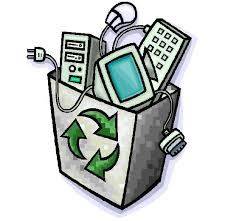 What is a eWaste Fundraiser/E event?
There are Billions of tons of toxic electronic waste in the world. In 2009 almost 3 million of those tons were in American alone. Electronic waste consists of any item that plugs into an electrical socket or is battery operated, including computers, laptops, hard drives and cell phones.
Fundraiser

Strategic Alliances has joined forces with Hire Patriots and their eWaste Partner, Electronic Disposal Group to help clean up the environment and create jobs for U.S. Veterans. The project is aptly named, Veterans Green Project. Many corporations donate their old eWaste items to Hire Patriots and Electronic Disposal Group processes these items, monetizes them and then donates half of the company's gross proceeds to Hire Patriots to help them run their operation to help military vets get short and long term jobs.
Strategic Alliances added another component to the mix by offering churches, schools and community organizations to get involved by inviting their supporters to donate their old electronic items to their organization. After the items are monetized the church, school or community program receives a check from the eWaste partner. The fundraiser becomes a catalyst for building financial support for each entity and cleaning up our environment.
The fundraiser or E event can be a one-time or ongoing strategy.  A date can be set for the church members, local business owners and residents to bring their eWaste items to a designated location. One or more of our company trucks would be there to properly transport and dispose of the eWaste. An ongoing fundraiser would consist of a Pod (portable storage container) being strategically placed at a central location. This method would allow supporters to drop off their eWaste items at their convenience. The Pod would be picked once the Pod is full.
These pick-ups would be done as often as necessary to make sure there would always be room for more eWaste items to be received. Each Pod would be managed by two U.S. Veterans, which would also be jobs created for them through the campaign.
Advertising of the event would consist of contacting the media (television and radio) and press releases to organizations such as Chambers of Commerce and other non-profit organizations.
Items to be collected:
Computer                                             Televisions                                                           Hard Copy Devices
Laptops                                                 cathode ray tubes (CRTs)                                  printers
desktop CPUs                                       flat-panel                                                              fax machines
monitors                                                                projection                                                              scanners
keyboards                                             monochrome                                                        copiers
mice                                                                                                                                       multi-function devices
Mobile Device                                     Battery
cell phones                                            Lead-Acid Automobile Batteries
smartphones                                         Non-Automotive Lead-Based Batteries
PDAs                                                      Dry-Cell Batteries
pagers
The collection will also include any other electronic device that a household might have.
For more information on how Strategic Alliances can help your organization raise funds, you can send us an email to strategic.alliances@hirepatriots.com or cliffwrightspeaks@gmail.com. Or you can reach us at 951-258-1479.
Share us on