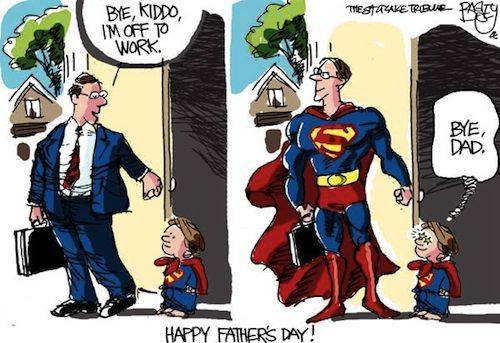 From a Dad to Dads on Fathers' Day
(How to get my children to think I am Superman again.)
This will be a bit unusual for a Fathers' Day blog post. It is not about my father; but, it is about my being a father.
Like every human being, I have my personal struggles and challenges. We all do. And probably like many of you, I have a daily, ongoing, inner dialog that takes place between my conscience and my Maker.
I have known that God exists and believed in him since my early youth. That does not mean that I was a 'mature' believer in God. Although, directed by his word and his Spirit, I spent much of my youth doing what I wanted and chose inappropriately too often. This resulted in estranged relationships with others, and particularly my children.
I am a man of strong principles. I have firm beliefs in what is wrong and right. When others violate my world view, I have reacted too strongly. I have been harsh. I have been judgmental. I have been too critical and demanding of consistent, righteous behavior. My lack of it, has not stopped me from requiring perfection from others, especially within my own family.
But God never quits working. Eventhough I am now in my 60's, he is still working diligently on my inner and outer self. God has a plan. That plan is to make me into the image of his Son, Jesus Christ. Ironically, it is in my waning years that God has finally established a firm foothold in my life and my daily reactions and decisions. Too often, I find myself saying, "I wish I knew back then, what I know now."
Here is what God has done and is doing to make me a better father, husband, friend, patriot and businessman:
1)      My wife and I have gone through tremendous struggles and stress, daily, in our endeavors to help US veterans and to make our non-profit outreach to them successful. It has been very hard. We have gone "all in" with this effort. We have given everything, including all of our money and possessions to this important ministry. We would have certainly failed if we had done any less. — In like manner, many of you are now giving everything you have to attain a certain goal or vision.  You know what I mean.
2)      God has taken us on a journey. Often times, it has gotten scary. We have gone where we did not want to be and pleaded for God to take us out. He has not. Instead, we have learned to live and to thrive in such environments.
3)     God has taken us through hardships and difficulties that challenged our belief. It has come down to our having to ask ourselves: "Does God really exist?" "If so, does he care about us?" "Are we wasting our time in seeking God's help?"  — These are important and good questions for us all to ask about God's involvement in our daily lives.
Here is my answer:
1)      Over the last twenty-five years of working with my wife in helping US veterans and their families, we have both felt strongly that what we were doing is why we were created. Working alongside our veterans together has given our lives meaning and purpose every waking hour.  We have experienced a motivation, strength and fortitude within us that defies human explanation. Some of the trials through which we have persevered required much more than either of us possess. We have witnessed this too many times to have any lasting doubt plague us. Whenever those questions arise now, all we have to do is to think back and to begin recounting the multitude of blessings and interventions that arrived at just the right time.
2)      God has dramatically increased our faith. We are not the same people we were when we began. We have learned to hold on, to wait; and to find strength in doing so.
3)      Now, when unexpected things happen that derail us or threaten us, we rarely get so perturbed or frightened anymore. We have 'been there and done that' too many times. And here we are still standing!
This is where God has brought us and here is where he is taking us: This is the hardest and biggest challenge of our lives. I hope we learn this one really soon. It is daunting. But God calls us to be 'super' natural, not like everyone else. He is asking me to forgive everyone, every time. He does not want me to get angry at anyone anymore.
This is why: God is in control. My job is to submit to his will and to seek to follow him every day, all of the time. He promises to take care of us if we do. Nothing will happen of which he is not fully aware. I must learn to rest in that.
If I had known what I know and what I am learning today, I would have been a better person, father and husband. But it is not too late. "With God all things are possible." Jesus said.
Luke 6:27-36
New International Version (NIV)
Love for Enemies
27 "But to you who are listening I say: Love your enemies, do good to those who hate you, 28 bless those who curse you, pray for those who mistreat you. 29 If someone slaps you on one cheek, turn to them the other also. If someone takes your coat, do not withhold your shirt from them. 30 Give to everyone who asks you, and if anyone takes what belongs to you, do not demand it back. 31 Do to others as you would have them do to you.
32 "If you love those who love you, what credit is that to you? Even sinners love those who love them.33 And if you do good to those who are good to you, what credit is that to you? Even sinners do that.34 And if you lend to those from whom you expect repayment, what credit is that to you? Even sinners lend to sinners, expecting to be repaid in full. 35 But love your enemies, do good to them, and lend to them without expecting to get anything back. Then your reward will be great, and you will be children of the Most High, because he is kind to the ungrateful and wicked. 36 Be merciful, just as your Father is merciful."
Mark Baird
Share us on