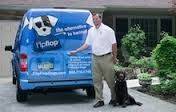 To All Veterans:
"We sleep safely in our beds because rough men stand ready in the night to visit violence on those who would harm us".
– George Orwell
Freedom isn't free. I don't have to remind any of you who served.  It is astonishing to us at FlipFlop Dogs that until recent years, there was little hometown job security for those military veterans who proudly served their country.  Something is not right in our society and its' priorities, as there are far too many veterans who never find fulfilling careers after serving in the military.
We cannot employ every veteran, or personally give "Thanks" to all of you who have served. Our business is a start-up, yet built on an internationally proven business model, along with a ton of experience in the pet industry. So, we decided the best way we could say "Thanks" to those who served, was to award a FlipFlop Franchise to a military veteran. If you love dogs, this is truly an awesome career! Check out our website for more information on what makes this business concept tick.
My father served as a pilot in WWII and my father-in-law was in the Infantry in the Korean War. We wish that they were both still alive today, as we would have loved to have them participate in the selection committee and to be the ones to notify their fellow veteran of winning this contest. We will do our best in their absence.
To enter our contest to win a free franchise, click HERE.
Lastly, we meant to keep the Contest Rules & Regulations simple and straightforward, but then the lawyers got involved. So if you have any questions, feel free to contact us ( contest@FlipFlopDogs.com).
Most of all, a sincere "Thank You" and good luck, from everyone at FlipFlop Dogs.
Admirably,
Jack  &  Taffy
FlipFlop Dogs Co-Founders
Share us on