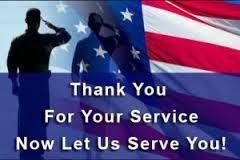 I have created a business plan for reaching US veterans that has been used by over 350 US companies, including Fortune 500 companies. As one of America's leading advocate for US veterans, I have their ear. I endorse veterans on TV, radio, press, the social networks, speaking engagements and I have written best-selling books about veterans. My most recent book is The Patriotic Business Plan: Strategies for Sensational Success. 
HirePatriots is much more than a job board. Our website visitor ranking has been ranked as high as 25,000 out of 385,000,000 US websites. We are one of the most popular web destinations for US veterans. The HirePatriots.com blogs receive about 600,000 readers a year.
We provide one day jobs to full time jobs for veterans. We also introduce entrepreneurial veterans to franchises and business ops. We even create businesses for veterans. For instance we have multiple US Military Maintenance business owners across America. This is a business model that I created for veterans.
If you would like me to market your business, school or franchise to US veterans, I can do so very effectively. Let's talk about Cause Marketing.
At your service,
Mark Baird
ceo@hirepatriots.com
760-730-3734
People Magazine's "Hero Among Us" 
From President Bush: The Congressional Medal of Merit
From President Obama: President's National Leadership Medal
From San Diego: The Visionary Award for Creating Economic Development
From the Chamber of Commerce: The Extra Mile Award
From ABC TV: The Leadership Award
From U.S. Veterans & Families: Liberty
From Jesus Christ: Love, Joy & Life
Author: An American Crisis: Veterans' Unemployment
Author: The Patriotic Business Plan: Strategies for Sensational Success
Share us on