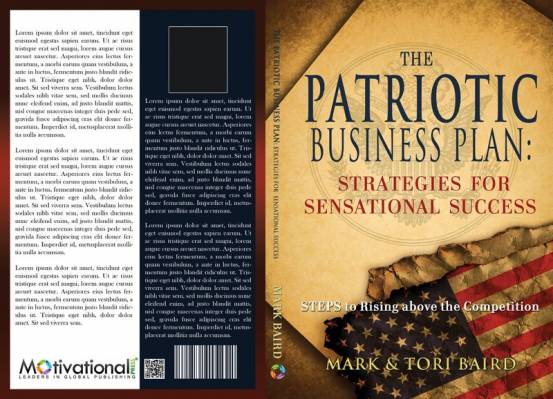 Contact:
Janet Carson
(760) 208-4990
Janet@JustinSachsCompanies.com
MOTIVATIONAL PRESS  TO PUBLISH THE PATRIOTIC BUSINESS PLAN: STRATEGIES FOR SENSATIONAL SUCCESS BY MARK BAIRD
FOR IMMEDIATE RELEASE (Carlsbad, CA – 01-28-2014) –Motivational Press today announced an agreement to publish The Patriotic Business Plan: Strategies for Sensational Success by Mark Baird, which offers The step-by-step strategies in The Patriotic Business Plan: Strategies for Sensational Success Plan are not hypothetical, This plan was began in San Diego, CA and won that area's highest business honor: The Visionary Award for Creating Economic Development. It was touted in GI Jobs top 50 Military Friendly Businesses. It received commendations from both President GW Bush and President Obama. And it was selected as People Magazine's Veterans' Initiative, and its authors were chosen as People's "Heroes among Us." for release in Spring 2014.
The Patriotic Business Plan: Strategies for Sensational Success shares with readers This is a plan for businesses in the 21st Century. Personal computers and technological advancements in communication devices, as well as the incredible popularity of the social networks has changed everything. The previous century's marketing, branding, advertising, recruiting and public relation tactics and techniques are no longer effective and are dying out.
The Patriotic Business Plan is an holistic approach to starting or growing a business that interacts with your community, clients and potential new customers. It focuses on helping US active duty military, veterans and spouses in a simple but very meaningful way. .
Motivational Press is excited to work with Mark Baird to share with readers:
Brand building and enhancement
Greatly improved personnel recruiting
Free TV, radio and press coverage
Socially interactive website and job board
Community project that results in tremendous recognition, speaking engagements, loyalty and numerous volunteers spreading your message by word-of-mouth
About The Author: 
Mark Baird is the founder of a unique solution to US veteran unemployment offered on HirePatriots.com, the jobs program for Patriotic Hearts, a 501c3 non-profit. Mark Baird's purpose is to create a nationwide employment safety for US veterans that will become a fabric of the American way of life. In order to effectively spread this program across America he has created this new strategy for businesses.
Mark Baird has been a business builder, speaker, teacher and US veteran advocate for over 40 years. He is considered a true subject matter "expert" and has appeared on FOX National Business News, NBC Nightly News and on every other major News channel. He is the author of An American Crisis: Veterans Unemployment.
About Motivational Press:
Motivational Press is a global leader in the field of general interest publishing, dedicated to providing the best in nonfiction for consumers of all ages, across all printed, electronic, and audio formats. Motivational Press is a broad-based publisher with strengths in business books, self-help books, health, wellness, sports, narrative nonfiction, reference, pop culture, design, and religious and spiritual books. Motivational Press is consistently at the forefront of innovation, using digital technology to create unique reading experiences and expand the reach of its authors.  Its divisions include Motivational Press Adult Publishing, Motivational Press Children's Publishing, Motivational Press Audio, Motivational Press Digital and international companies in Australia, Canada, Germany, Brazil and the United Kingdom. For more information, visit www.MotivationalPress.com.
Share us on