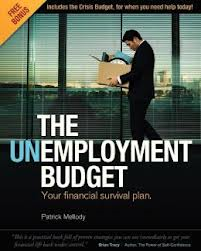 Millions of Americans are unemployed through no fault of their own and want to work tomorrow. Millions more are experiencing financial stress. I have experienced both and learned how to survive. I want to share my story with you and a plan that will help you survive.
When I wrote "The Unemployment Budget – Your Financial Survival Plan" I hoped to reach and help a million people. After the endorsement of best selling author Brian Tracy the book received more attention and I had the pleasure of doing several radio shows and print articles to promote the book but you can only do so many.  I loved reaching out over the air-waves but  I now realize that if my true goal is to help a million people I would have to give the book away for free. FREE has a way of spreading the word faster than regular media. FREE on social media is like lightning and I am thrilled to pay it forward.
The three major topics of the book are:
-The "Percentage Guideline Chart" – In a perfect world what % of your take home income should you be spending on a home, car, debt and so on. Wouldn't it have been nice to have that when you were 20!
– Pages of powerful referral services that are free to you and will help you move forward quickly.
– "The Crisis Budget" for when you need help today!  A one page basic budget you can do today to help you make some informed decisions to survive sudden unemployment or income loss.
UNLIKE OTHER FREE DOWNLOADS YOU WILL NOT BE ASKED FOR ANY CONTACT INFORMATION. THIS IS A FREE PDF ONLY 21 PAGES. JUST FOLLOW THE LINK BELOW TO MY VOLUNTEER WEB SITE FOR HIRE PATRIOTS AND CLICK ON THE BOOK COVER ON THE LOWER RIGHT SIDE OF THE PAGE.HTTP://HIREPATRIOTS.COM/HEROES             
 IF YOU FIND THAT THIS BOOK IS A HELP TO YOU LET'S "PAY IT FORWARD" TOGETHER – USE THE SOCIAL NETWORKING BUTTONS ON THIS PAGE AND SEND THE LINK TO YOUR SOCIAL MEDIA FRIENDS. YOU MAY NOT NEED THE BOOK RIGHT NOW BUT A FRIEND MIGHT.
Share us on