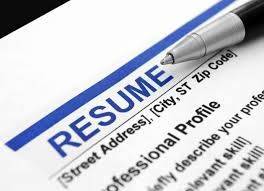 Every once in a while you run across someone who genuinely wants to help people find work. After spending 45 minutes on the phone with Art Garroway I knew I was talking to one of those special people. Here is a copy of his blog, pass it on or if you need a job take advantage of his free offer on help.
One unemployed US citizen is One Too Many
I should probably have my head examined but I love a challenge.
I don't know how long I will be making this offer. The men in white coats could knock at my door at any time. If you don't tell them what I am doing, I won't.
See, I get bored easily.
For several years, I have been helping veterans to find work.
There are too many US citizens who have given up trying to find work (the unemployment numbers are only for those who are still looking, not for those who have given up!)
If you an unemployed US citizen, either just starting to look for work or given up, send your resume in a word file to:
have.resume.want.work@gmail.com
Tell me three job titles you are seeking (you need to be qualified, no cheating).
Tell me what part of the country you want to work?
If you have a security clearance, mention that.
No promises but I do have contacts with recruiters and companies.
I am offering my services for Free. Yes, I said Free. Did your mother ever tell you there is no such thing as a free lunch?  Mothers are always right!
My mother was always right and she is probably wondering why I am giving free help.
I'm helping because it is the right thing to do and this is the kind of person I am.
See Art's Blog at  http://mdveteransneedjobs.blogspot.com/
Share us on