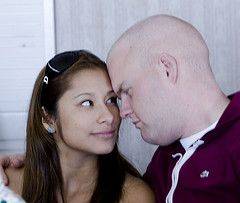 HirePatriots has 12 suites reserved at the Marina Inn Suites, a luxurious hotel on the edge of the Pacific, in Oceanside Harbor, across from Camp Pendleton Marine Base. We will host a dozen US veterans (or currently serving US military personnel) and their spouses on November 11 through November 13, all-expenses paid, including meals for a 3-Day marriage retreat: Friday 6 PM thru Sunday 2PM.
We have been very successful with these intimate retreats. The small number of couples that we invite (12) provides for a rewarding peer group experience. — We use a marriage program that was the most successful program in the history of the Focus on the Family radio series. It is based on a biblical verse: " Husbands, love your wives. Wives, respect your husbands." — This is a simple and profound statement that represents the core of being a man and a woman, and what we need to feel fulfilled and happy in a marriage.
We watch a video series together in a comfortable, large suite livingroom's big, flat screen TV. Then we break and the couples work together on their workbooks. Afterwards, we meet to discuss our answers. Then we watch another video. — We watch 5 videos during the weekend.
We leave time for you to enjoy the view and to swim in the pool, or walk around the harbor together and look at the boats and shops. And we take you to a fancy restaurant. Plus, we all have fun doing other things.
But the emphasis of our weekend is to create a closer bond and intimacy between military and veteran couples. — You all face unique challenges that civilians cannot understand. And yet those trials can also create a stronger bond than most others will ever know.
If you would like to attend, please make a firm commitment. And please make arrangements for child care throughout that weekend.
If you can definitely attend, please send us your request to hirepatriots@gmail.com.
Thank you for your service!
Mark and Tori Baird
HirePatriots.com
Share us on