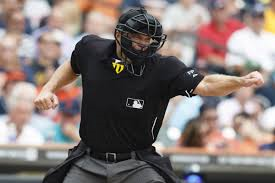 We have a free umpire clinic for military veterans and still have 20 spots available.  I apologize for the late notice, but we had a few last minute spots open up and I wanted to make them available to the veterans.
The Lester Foundation, through our partnership with the Pacific Umpires Association, will host 40 veterans and active duty service members from the San Diego area for a weeklong umpire-training clinic.   The American Heroes Umpire Clinic take place July 6 th – 10th at Canyon Crest Academy in San Diego, CA.   This clinic is provided free of charge for all students.   Instruction at this clinic will be provided by members of the Pacific Umpires Association and staff from the Lester Foundation.
The Lester Foundation's mission is to reduce the unemployment rate among veterans through job training as sports officials while creating an increased sense of community and purpose.
To find out more about us, see pictures and video from our previous clinics, and to support the mission of the Lester Foundation, please visit www.lesterfoundation.com.
Share us on