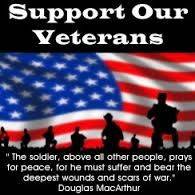 The founders of HirePatriots.com and the non-profit, Patriotic Hearts, have created a radio show that airs weekly for US veterans and the companies that want to hire them. It is called "Friends of Veterans." It airs on blogtalkradio.com. Here is a link to our show:  http://www.blogtalkradio.com/friends-of-us-veterans/2014/06/09/how-to-find-the-right-job-quickly.  If you miss the broadcast, you can listen to the interview at this link.
This show will be interviewing an extraordinary US veteran, Cesar Nader. Cesar was a Captain in the US Marine Corps. He is now a successful government contractor. But he still takes time from his business and family to travel the US and to instruct transitioning US veterans on how to make a successful transition into civilian employment. It is an outstanding program!
Cesar has spent two years working on his plan of action. He conducted over 200 phone screenings, and more than 40 job interviews. He had 11 job offers on the table before retiring from the Marine Corps. All that effort taught Cesar how to effectively market himself to employers, in the private, public, government, non-profit, and overseas sectors. He knew that he had to share this information with those veterans following him out of the military.
Share us on