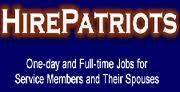 HirePatriots is spreading its One Day jobs for US veterans across America. We have several US veterans helping us. We create a local website for each metro area. It has a One Day job board, a Careers job board, and a blog. It shares HirePatriots top 1% ranking. The veteran representative in each location manages the content on the site. — All it takes are a few One Day jobs to be posted and for a few local military and veterans to take these jobs. The response from citizens and veterans will be overwhelming. Like a match lit to dry grass, it will spread like wildfire.
"One Day jobs" are chores and repairs posted by local residents to hire local veterans to help them. It is free to post One Day jobs. Just say what the job is, where, how much you will pay, and leave a phone number. A local active military person, a veteran, or their spouse will give you a call. If you choose to hire them, let them know your address. When they are done with the work, pay them. HirePatriots offers this service completely free. It is great way to thank your veterans and to help them earn some extra money, at the same time.
Here is a letter received by one of HirePatriots Veteran Ambassadors in Texas today:
"I met with retired Marine Major this morning.  This guy is beyond the real deal.  He almost did back-flips as I was explaining your story and the One Day Jobs program.
Here is what he promised to do for us:
He will get me on at least two TV stations – 5 minute spots
He will write a full page editorial for our local newspaper (he is a regular guest columnist)
He is going to try an get me a monthly spot on the largest radio station 
He is going to get me a personal introduction to the president of a local bank who knows just about every business owner 
God opened the flood gate this morning.  He gets the glory for all."
Get a community job board for your area. Write me at Mark@hirepatriots.com.
Mark Baird
Share us on