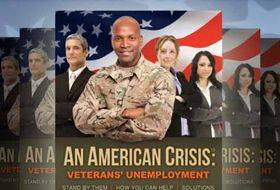 An American Crisis: Veterans' Unemployment was written by 25 US veteran employment experts. My wife and I also included our chapters. This book gives all job seeking US veterans definitive advice and direction. It also informs companies about the value of US veterans and how to create a successful veteran hiring program within your company. It has been at the top of the list of best sellers on Amazon in several categories.
As a means of honoring our US veterans I am offering this book at cost for one week. If you are a company, school, organization or a patriot that is also dedicated to getting our valiant veterans back on their feet in the civilian world, this is a great way of doing so.
Give these books to veterans in your community and to the organizations that support them. Businesses should give them to their employees to give them a better understanding of the US veterans that work alongside of them. And this is a MUST for human resource departments.
Our local Police department has purchased this book for all of its officers. It is required reading here in Oceanside for our police.
Please consider getting a case of 40 books for $120. (That is just $3 a book! Normally, this book sells for $20.) Order by September 4 and we will provide free shipping in the US.
To Order
Call Mel 931 593-2484. Email him with your phone number, billing address and shipping address: mel@inspiredauthorspress.com. He will call you back to get the credit card info. Books must be prepaid before shipping. We can drop ship by the case at no extra cost. One case can ship to a certain address and other case or cases to a different address. Email or call with any questions. He is in the INspirational Press Publishing office from 9-5 central time Monday–Friday.
Thank you,
Mark Baird
Share us on