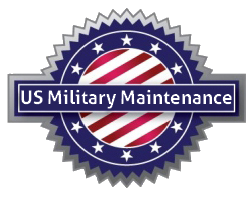 The mission of Patriotic Hearts is to get US veterans and their families on their feet. This begins with having a sufficient and reliable source of income, either by having a job or starting a business. By helping veteran entrepreneurs create a successful commercial maintenance company, we accomplish both missions with one stroke. The more successful we help you become, the more US veterans you will hire.
US Military Maintenance is a business for US veterans to own. It is a straight forward proposition: We use our knowledge and resources to help veterans get their own USMM businesses up and running (earning enough to be paying the bills and hiring employees). And then, we help them to expand beyond that. The potential to earn over one million (gross) a year within 2 years is very do-able.
We also seek new accounts for them; interviews on TV, radio, in the press; and speaking opportunities at business gatherings.  They promote our Hire Patriots program and advocate for the hiring of US veterans. Then they share about what they are doing themselves to put a dent in veteran unemployment: US Military Maintenance.
If you are confident that this is the right move for you, then we will get your going within two weeks. You will have all of your equipment, website, shirts, business cards, bid sheets, agreements, marketing letters, your sales pitch, and training by me and other USMM business owners. You will be ready to go. We will work as a team every step of the way, until you are as successful as you want to be.
You will approach businesses as the Director of an award winning US veteran non-profit, Patriotic Hearts. Our mission is create jobs and to hire US veterans and their spouses. You are in charge of our US Military Maintenance program.  You are looking for military friendly companies that want to participate in this program. We train and hire US veterans to maintain their properties and get them "military clean."
This is what we ask in return: Commit to hiring US veterans. Pay a good wage. Do outstanding work. Make a donation to Patriotic Hearts that covers our costs for providing the equipment, websites, and marketing materials. And continue to donate to Patriotic Hearts as your company's primary charity of choice, as your business grows.
If interested, contact me and let's talk.
Mark Baird/  ceo@hirepatriots.com/ 760-908-5339
Share us on