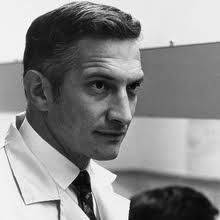 He made space travel possible. He made personal computers and iPads and nearly every modern electronic devise big and small possible. And his innovations generate billions of dollars of commerce every year. Our entire technological revolution exists because of him: Robert Noyce.
Long before Gates, Jobs, and Zuckerberg, in 1957, eight brilliant men began the Fairchild Semiconductor division. The glass vacuum tube on which such modern devises as televisions, radios and telephones ran had just been replaced by a tiny electronic device called a transistor. It functioned far better and was a fraction of the size and cost. These eight scientists led by Noyce, took that innovation and transformed the entire world.
But it was Robert Noyce who was able to take the concepts of these many geniuses and envision the 'integrated micro semiconductor.' That invention serves as the basis of all modern electronics. Robert Noyce is the father of the 21st century. How many people even know his name? – But I don't think that he would care. (He died of a heart attack in 1990 when he was 63.) Noyce was not motivated by fame or money. He was driven by accomplishment, excellence, invention, entrepreneurism, innovation and improvement. He was a visionary who always looked to tomorrow. Robert Noyce was an American hero. He should be remembered.
America will always need citizens made of this man's mettle.
Mark Baird
Share us on