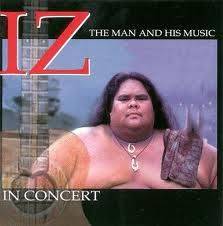 Somewhere Over the Rainbow 2011 – Israel "IZ" Kamakawiwo'ole
This young man touches my soul with his voice. I share this with you because I think you will enjoy this too. – I love Hawaii and Hawaiians. It is where I want to be raptured or laid to rest and resurrected. I even hope to establish a retreat there to host US veteran R&R retreat for individuals, married couples, families, military widows and their children.
Every year the H.S. students in Hawaii hold a song fest that lasts for a week. The student choirs compete in singing traditional Hawaiian songs. It is the most beautiful musical experience I have ever witnessed. It is called the Kamehameha Schools Song Contest. http://www.ksbe.edu/songcontest/
Wikipedia Info:
In 1994, Kamakawiwoʻole was voted favorite entertainer of the year by the Hawaiʻi Academy of Recording Arts (HARA).
E Ala E (1995) featured the political title song "ʻE Ala ʻE" and "Kaleohano", and N Dis Life (1996) featured "In This Life" and "Starting All Over Again".
In 1997, Kamakawiwoʻole was again honored by HARA at the Annual Nā Hōkū Hanohano awards for Male Vocalist of the Year, Favorite Entertainer of the Year, Album of the Year, and Island Contemporary Album of the Year. He watched the awards ceremony from a hospital room.
Alone in Iz World (2001) debuted at #1 on Billboard's World Chart and #135 on Billboard's Top 200, #13 on the Top Independent Albums Chart, and #15 on the Top Internet Album Sales charts.
Kamakawiwo'ole has become the best selling Hawaiian musician of all time.
Support of Hawaiian rights
Kamakawiwoʻole was known for promoting Hawaiian rights and Hawaiian independence, both through his lyrics, which often stated the case for independence directly, and his life.[6] His song Hawai'i '78 demonstrates the beliefs and hopes that he had for the people of Hawai'i: the life of this land is the life of the people, and that to care for the land (malama 'āina) is to care for the Hawaiian culture.[7] The state motto of Hawai'i is a recurring line in the song and encompasses the meaning of Iz's message: Ua Mau ke Ea o ka ʻĀina i ka Pono (proclaimed by King Kamehameha III when Hawai'i regained sovereignty in 1843. Roughly translated: The life of the land is perpetuated in righteousness).
Death
Throughout his life, Kamakawiwoʻole suffered from severe obesity resulting from compulsive overeating, and at one point weighed 757 pounds (343 kg; 54.1 st) standing 6-foot-2-inch (1.88 m) tall.[9] He endured several hospitalizations because of health problems caused by his obesity.[9] Beset with respiratory, heart and other medical problems, he died at the age of 38 in Queen's Medical Center at 12:18 a.m. on June 26, 1997.[9] Kamakawiwoʻole is survived by his widow, Marlene Kamakawiwoʻole, and their daughter, Ceslie-Ann "Wehi".
The Hawaii state flag flew at half-staff on July 10, 1997, the day of Kamakawiwoʻole's funeral. His koa wood coffin lay in state at the state capitol building in Honolulu. He was the third person in Hawaiian history to be awarded this honor, and the only one who was not a government official. Approximately ten thousand people attended the funeral. Thousands of fans gathered as his ashes were scattered into the Pacific Ocean at Mākua Beach on July 12, 1997.[10] The funeral and the scattering of Kamakawiwoʻole's ashes were featured in the official music videos of "Over the Rainbow" released posthumously by Mountain Apple Company; as of January 2013, the videos as featured on YouTube have garnered over 70,000,000 views.
On September 20, 2003, hundreds paid tribute to Kamakawiwoʻole as a bronze bust of the revered singer was unveiled at the Waianae Neighborhood Community Center on Oʻahu. The singer's widow, Marlene Kamakawiwoʻole, and sculptor Jan-Michelle Sawyer were present for the dedication ceremony.
Legacy
Kamakawiwoʻole's recording of "Over the Rainbow/What a Wonderful World" was featured as a sound track in the movies Meet Joe Black, Finding Forrester, 50 First Dates, Fred Clause and IMAX: Hubble 3D.[14] It was also featured on TV series like ER, Scrubs, Cold Case, Glee and the UK original version of Life On Mars among others.
"Over the Rainbow/What a Wonderful World" reached #12 on Billboard's Hot Digital Tracks chart the week of January 31, 2004 (for the survey week ending January 18, 2004). It passed the 2 million paid downloads mark in the USA by September 27, 2009, and then sold 3 million in the USA as of October 2, 2011.
Share us on