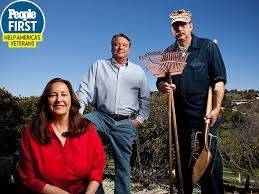 Last April People Magazine did a story about Greg Erlandson, a navy veteran with a full time job who takes one day jobs off of HirePatriots.com to supplement his income and provide for his family. Greg's story is especially poignant because Greg's son Dillon has leukemia.  Greg needs to earn an extra $1,800 dollars every month to cover the extra expenses connected to his sons treatment.
Yesterday, a San Diego homeowner called me about a 2 day painting job he had at his home. The job will pay 15.00 an hour. He hired Greg to paint his house this Saturday. Today is the 4th of July. Greg will spend it with his wife Denette, his son Dillon and his two younger sons, Trevor and Jake.  They will enjoy a rare day off with Greg and, hopefully, a rare day away from the hospital for Dillon.
Tomorrow, Greg will be at a one day job for a retired doctor in Fallbrook who owns a small ranch. On Saturday and Sunday Greg will be helping a homeowner in San Diego paint his house. He found these jobs on our HirePatriots.com One Day job board.
Please pray for Greg and his family.  Please pray that Greg won't have to rush his son to the hospital anymore, in a life or death situation, as seems to happen almost every week.  Please pray for Dillon and his recovery. And please, wherever you are in the United States, look around your house and post a one day job for our active duty military and veteran spouses. And encourage the companies you know to post their jobs for US veterans on HirePatriots.com too.
Here is a link to the People Magazine story about Greg and our One Day jobs for US veterans and their spouses:  http://www.hirepatriots.com/people-first-initiative-2013.
God bless America!
Tori Baird
Share us on