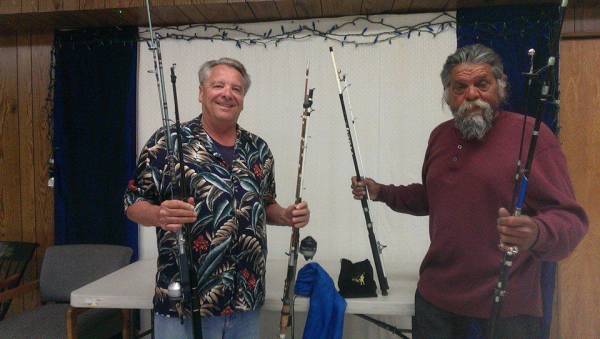 Victor in the right of this picture used to have a good job. But when the company he worked for downsized in 2008 he was laid off. Due to his age he was unable to find another job. Now, he fishes everyday for his food. But recently his gear was stolen. Our homeless mission received a donation and bought Victor new poles, reels and tackle.
Too many of our US veterans have fallen through the cracks of society. Some live in chronic pain that prevents them from working; some are emotionally and or mentally wounded; but most are good men and women who just cannot find employment. They usually sleep in their 'secret place' where no one knows but them, so that they will not get harassed or be victims of theft. They have no place to get a shower, cook a meal, or get dressed for an interview. They need a lift up.
HirePatriots helps feed and to care for over 120 US veterans in Oceanside, CA, next to Camp Pendleton Marine Base. And we counsel and seek employment for hundreds of others across America who contact us every month. We also create jobs for them. Right now, we have started US Military Maintenance. We seek for offices to clean in the evenings. These businesses are managed by professional US veterans that train and oversee their US veteran employees.
HirePatriots also offers One Day jobs. These are jobs around people's homes and yards. And we provide a full time job board too. HirePatriots has representatives in 48 states.
Do you want to be a part of this blessing? Get a HirePatriots chapter going in your community. Help out your local HirePatriots' efforts if you have one. Hire US Military Maintenance to clean your offices. Go to PatrioticHearts.org, our 5013 charity, and make a contribution so that we can help more struggling US veterans.
Mark Baird/  mark@hirepatriots.com/ 760-730-3734
Share us on