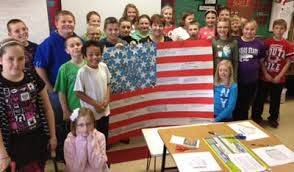 When I was a teacher in Southwest Los Angeles I always made sure that all of my students got a "Letter to the Editor" published in the Los Angeles Times before the end of the year. It had an amazing result! I saw children with no self-esteem transformed.
Today, being published in the Times or any paper is not what it used to be, especially to this new generation of school students. The Internet is where to be seen and appreciated.
After several decades of developing the minds and hearts of students, for the last ten years I have been seeking to assist US military, veterans and their spouses. I have one of the most popular web destinations on the Internet, HirePatriots.com. It provides a unique job board for US residents to hire local US military members and their spouses when they need help with chores and repairs around their homes and yards. It is a very popular community program that has helped over 100,000 people in San Diego where it was started in 2005. Read some comments from citizens and veterans HERE.
Out of all US websites, HirePatriots.com ranks 28,000. It has a blog that is fully connected to the social networks and search engines that is read by over 600,000 people a year. I give elementary and secondary schools their own, customized HirePatriots website. It has all the content on the home page as you like. You control everything on the site. But My HirePatriots team is always ready to assist you and your students.
The purpose of our doing this is three-fold. One, it offers students the same thing I offered my students in Los Angeles, except on the Internet. Students' essays, pics and videos about America, its history, Presidents, and especially its veterans can be posted on this site and sent to our hundreds of thousands of followers. These posts will be read by Americans for many years to come. And students can see the popularity of their efforts.
Two, it provides a means for students to fulfill their community service credits. Many schools now require a certain number of hours to be completed by students before advancing to the next grade. The HirePatriots program will help them achieve those hours. Beside maintaining content on the website, they can take posters and fliers and distribute them throughout the community to get more jobs posted. They can speak at community events, clubs, organizations and churches.
Three, it helps the veterans and residents in their community. It is especially a God-send to senior citizens who live on limited incomes. It is small step for your school, but a giant step for America. Our mission is to provide a nationwide safety net of these One Day jobs for US military, veterans and their spouses all across the nation. Your students will be key in making this happen. One day, every willing able US veteran can work every day. Veteran homelessness and unemployment will be virtually eradicated.
Get your school's free HirePatriots website by contacting me at mark@hirepatriots.com.
Share us on