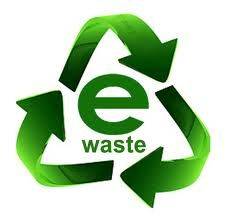 Did you know that E-waste may be the most critical issue facing earth and mankind?
E-waste is the computers, phones, and anything else electronic that we throw away.  Estimates say that we throw away 500 million tons (One thousand billion pounds!) And the amount of e-waste being produced – including mobile phones and computers – could rise by as much as 500 percent over the next decade!
Our US veteran non-profit, Patriotic Hearts has developed a HirePatriots E-waste Solution. Give us your e-waste and we will make sure that it is properly disposed by EPA certified companies in the USA. And 20% to 30% of all profits will go to Patriotic Hearts to help US veterans. The program is calledHirePatriots' Veterans Green Projects. We are already aligned with some of the largest companies in the world.
If e-waste is not broken down and disposed of properly it can contaminate our world's water supply and soil with substances that will produce cancer and mental, emotional, psychological, physical and environmental impacts that will challenge the perpetration of the human race.
But this problem is not beyond our ability to solve. This is something important that we can really solve now. The technology is here. All it takes is YOU.
HirePatriots' Veterans Green Projects ensures responsible recycling, best management practices of the electronics being recycled, worker health and safety, and consideration for the environment locally and abroad. HirePatriots' recycling aims to minimize the dangers to human health and the environment that disposed and dismantled electronics can create.
Patriotic Hearts is a 501c3 non-profit that has been awarded medals of national service from both US Presidents Bush and Obama. Its HirePatriots.com veterans' job program is being touted across America and in the national media as the missing piece to solving US veteran unemployment. Plus, it stimulates the economy at the same time!
The US citizens who volunteer to serve in our nation's military, US veterans, use their bodies as a barrier to defend ours. They are those of us who serve a higher purpose. They understand a diminishing principle of patriotism: answering a nation's call to arms.  This requires a tremendous sacrifice for them, their spouses and children.
This is the direct, plain and simple truth: Every one of us owes them! Any American who fails to honor the service of US veterans who risk their lives to protect ours' is a fool and can never be taken seriously, except by fellow fools.
By supporting companies that give their e-waste to Patriotic Hearts' HirePatriots' Veterans Green Projects you hit a grand slam! — The safe collection and disposal of e-waste; protection of our environment and future generations; vital assistance to US veterans and their families; the promotion of Patriotism and national service among US civilians.
For further information and participation: Please contact: Michael Malott
Share us on