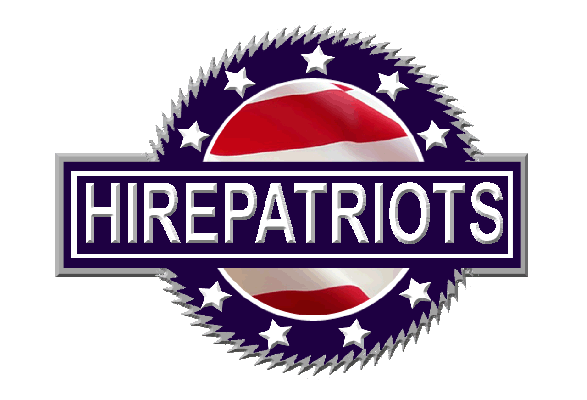 US Veteran 'Work Ready' Hiring Events 
HirePatriots invites either one, exclusive company with more than 25 immediate open positions to attend these event. We also modify these events to accommodate up to 8 companies within the same industry that have smaller hiring needs.
This is how it works: A company sends HirePatriots the specs and qualifications for their open positions. We use our contacts to find US veterans, many recently transitioned, with military and work experience in that industry or skill. Our HirePatriots team will work personally with these veterans prior to the event, making sure they are properly prepared and work ready. The attendees will have studied the attending company website and have made a thoughtful decision about working for them.  Their resumes will be related to specific jobs offered. Their mind-sets and their personal lives will be prepared for employment too. — Sponsors of these events will be introduced to a roomful of US veterans, fully prepared and qualified to fill their open positions.
We host these events on US military bases. You can speak to them via video or in person. We ask that our qualified US veteran attendees that meet your job specifications and pass your background checks be interviewed for employment.
We ask a donation for us to secure a facility, the time it takes for us to scour a US base for proper candidates and then to prepare them for you to interview when we hold these events exclusively for your company.
In addition to these Work Ready Hiring Events we provide a host of other affiliated services. We have a popular Careers job board to hire US veterans. And we have a very popular website and blog that gets tens of thousands of readers. We also promote our business partners and help you to recruit and to market on the social networks and we increase the numbers of visits to your corporate website through our unique SEO methods.
Our non-profit is Patriotic Hearts. We provide HirePatriots.com and multiple other programs for our US military, veterans and their spouses, including career counseling, job placement, job training and certification, and we have a robust mentoring program for US veteran entrepreneurs. Patriotic Hearts also provides a 3 day, all expenses paid military marriage retreat. We also provide One Day job board to communities across America so that local residents can hire their nearby veterans to help them with chores and repairs.
Here are some of the accolades we have received for our efforts:
People Magazine's "Heroes Among Us" 
From President Bush: The Congressional Medal of Merit
From President Obama: President's Volunteer Service Medal
From San Diego: The Visionary Award for Creating Economic Development
From the Chamber of Commerce: The Extra Mile Award
From ABC TV: The Leadership Award
At your service,
Mark & Tori Baird
Authors: An American Crisis: Veterans' Unemployment
Authors: The Patriotic Business Plan: Strategies for Sensational Success
Share us on