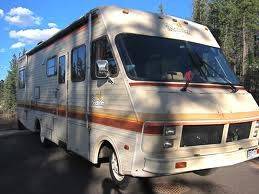 My wife and I have moved into an RV again tomorrow. We founded HirePatriots almost a decade ago. When we started we owned our 3 bedroom house.  We had savings. And I owned a small business that was growing. We were set. No more worries. No more debt. We had just blue skies ahead. But then a U.S. Marine knocked on our door one day and everything changed.
This U.S. Marine needed to earn some extra money for an emergency family issue. He asked to help us with chores and repairs around our home and yard. And when he told us that many other U.S. Marines on the base next door to our home also needed to earn extra money, we ended up selling our house in order to build a website and job board for the 75,000 Jarheads next door.
Thousands of Marines began coming to that site every week looking for work posted by residents. But there were only a few jobs posted each day. That many was not nearly enough. To keep pace with the number of veterans looking for work on our site we had to do something. The dozens of jobs posted each week needed to become thousands.
We designed posters, fliers, street banners and biz cards. We used the tremendous patriotic posters made during WWII by America's best artists. We walked the streets and asked business owners if we could put the posters in their windows and fliers and biz cards on their counters.  Most agreed.
We also went to the myriad of barbershops surrounding the base and gave all of the barbers our business cards to give to all of the men that came in everyday.
Then we began going to Chamber of Commerce "sundowners" in the 18 different cities that comprise San Diego. Some were huge and some not so much. But hundreds of business owners received our material and heard our plea: "Please, post your company jobs on HirePatriots.com. And if you need help with yardwork, repairs, cleaning, hauling, anything for a day or more around your home, post it too!"
Then people from every demographic and city in the county began writing us about their happy experiences hiring local veterans. (Read those comments HERE.) They all praised the veterans they hired as being some of the very best people, and hardest workers, they have known in their entire lives. We sent those comments and the contact info of the civilians and the US veterans that helped them to all of the newspapers, TV and radio stations in San Diego County. And they began having me and my wife on, and allowed us to bring a resident and a veteran too, to tell their stories.  It was a huge success! We became the number 1 San Diego News story of the year! Everyone media outlet had us on multiple times.
A San Diego Supervisor gave us monies from his "discretionary fund" and we held 12 job fairs with thousands in attendance and over 100 companies at each. We hosted 8 military marriage retreats because the divorce rate on base was sky rocketing due to multiple combat deployments and PTSD. We also hosted several Welcome Home parties. Plus, I helped dozens of young, transitioning US veterans to start successful businesses.  (Thank you, San Diego Supervisor, Bill Horn, USMC retired.)
But then the U.S. economy fell off the table and crashed on the hardwood floor in late 2008! Companies stopped hiring.  They ceased coming to job fairs, posting on our site and putting up banners. The expense of running our multiple programs greatly exceeded our income. After several months of this, we had to make a decision: Should we keep paying the bills for HirePatriots: move out of our house, sell everything and keep our veteran program going? Or should we stop paying those costs and focus on our own needs?
Our decision was to move out of our beach front home with its boat dock and to move into an "affordable" 1979 RV. Unfortunately, after moving in, 14K in repairs was needed to keep it functioning.  But two years later, it collapsed and died.  – So we lived in our RV on city streets and in the field of a farm for 3 years.  But HirePatriots stayed up. Everyday veterans continued to get work from our site. And we held 3 marriage retreats during that time at an exclusive hotel that juts out into the ocean. And we held a huge Welcome Home Party for returning combat Marines too, and one job fair. – We just kept going no matter what.  Our ultimate goal for those years was to make sure that our job board stayed online and that jobs were posted that veterans and their spouses could take.
Because of my father's PTSD from his service in WW II, I had to leave home when I was 14. It was a matter of life or death.  So I grew up and created my adult life without him. Then while we were living in our RV he called out of the blue. He asked if I would see him. He said he was dying. Of course I went to my dad right away.  I met him after many, many years and his wife.  We actually had a great time together. And at the end of our meeting they offered me and Tori their cabin in Big Bear for us to have for "as long as we wanted." They even said they would give the cabin to us in their will. All they needed us to do was to pay the $400 a month mortgage.
It was a God-send! We moved into our new home in 2011. Having a place to live with hot water, electric, gas, heat, air conditioning, refrigerator and stove was wonderful! We were able to accomplish much more work.  During the last three years we have pushed through a horde of obstacles and difficulties to become a premier veteran website. HirePatriots has local job boards and sites in 36 states. We were on FOX National Business News with Neal Cavuto. We were featured in People Magazine. President Obama gave us his Presidential award for National Service. Brian Williams of NBC News did a segment about us. The most popular radio host in southern California, Bill Handel, told our story for 20 minutes and urged others to support us.  And our One Day job board has increasingly been recognized as the missing link to solving veteran unemployment. – Tremendous accomplishments that could not have been achieved without our safe abode.
But things change. Now, my father has decided to sell this cabin and we must move out; but, not because we ever missed a payment. They just need the money to keep going. He and his wife have lived longer than they thought they would.
So this Saturday morning Tori and I are moving back to Oceanside, the city in which Camp Pendleton Marine Base and 75,000 US Marines reside.   We could live in an RV park; but, that costs about $850 a month for a cheap place! Is it really worth it? – Pulling unto a residential street at 10 PM and then pulling away at 5 AM is not that hard. – And how many veterans could we help with that money instead?
Tori and I are no longer destitute. We now earn enough to have purchased another RV: a 1986 Winnebago. Of course, there are couple of thousand in repairs before the generator or air conditioning works. But in a few months, we will probably be able to get those fixed.
Actually, HirePatriots is about to blast off!  We have fantastic volunteers that include a significant number of current and former US military officers. Some serve on our Board of Directors. And major, global companies have approached us as possible corporate responsibility partners.  Plus, my book, An American Crisis: Veterans Unemployment is a best seller on Amazon and is in Barnes and Nobles.
Our plans are this: Marshall's and TJ Max department stores are holding a 3 month fundraiser for HirePatriots in each of their stores in San Diego County. They are a great team of patriots who really care about US veterans. Tori and I are looking forward to working with these special people. It is actually Providence that seems to have arranged our coming back home to San Diego, just at the right time.
Then, in January 2014, we will begin driving our RV across America. We are going to visit every state and the top 100 US military bases in the US. HirePatriots chapters will be created or strengthened all across our nation. By the time we are done, hundreds of thousands of US military, veterans and their spouses will be able to work and earn money everyday. US veteran unemployment will be virtually eradicated.
With the funds raised by Marshall's and TJ Max in San Diego we hope to get our RV wrapped with our great patriotic HirePatriots images, as well as the logos and banners of our sponsors that we hope to acquire.  What an impression we will make driving unto bases and into the towns surrounding them!
If you want to pitch in, you can always make a contribution to our non-profit, Patriotic Hearts HERE.
At your service,
Mark Baird
CEO: HirePatriots.com
Chairman: Patriotic Hearts
mark@hirepatriots.com
760-730-3734
People Magazine's Heroes Among Us
Past Chairman: CA Economic Council
Past Secretary: United Veteran Council
From President Bush: The Congressional Medal of Merit
From President Obama: President's Volunteer Service Medal
From San Diego: The Visionary Award for Creating Economic Development
From the Chamber of Commerce: The Extra Mile Award
From ABC TV: The Leadership Award
From U.S. Veterans & Families: Liberty
From Jesus Christ: Purpose & Eternal Life
Share us on