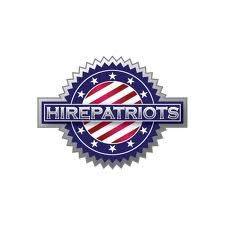 HirePatriots' Sponsor Services
Thank you for your interest in working with HirePatriots. We have been assisting US veterans and the companies that hire them for 10 years. Our 501c3 is Patriotic Hearts (20-8599179). HirePatriots is the name of our websites and veteran employment program.
HirePatriots has won many significant awards and received voluminous media attention and continues to do so. HirePatriots is one of the most popular web destinations in America. We have community websites in 41 states. Our mission is to have a presence in every US community where there is a US military base or a significant veteran population.
HirePatriots is a unique and innovative charity. We focus on assisting US military, veterans and their spouses. But we also assist US civilian residents and businesses. Our primary effort is getting veterans sustainably employed. We also offer military marriage retreats and we have a community program that includes school children, adults and senior citizens.
We help businesses to attract new clients, get PR and to recruit US veterans.
New Clients: Associating a business with a popular cause is a proven and established means of attracting more people to your product and services and increasing profits. HirePatriots has a stellar reputation and has helped over 100,000 US veterans and citizens. We help more everyday. Businesses from across America utilize HirePatriots to recruit and market.
HirePatriots has been on FOX National Business News, NBC Nightly News, CNN, CBS, ABC, NBC, MSNBC, and PBS. And we were featured in the most popular magazine in the world PEOPLE magazine. And our local leaders appear on their News affiliates too. Here is a short video from ABC TV that explains our community program: ABC Leadership Award.
Recruiting US Veterans: For a decade HirePatriots has been building relationships with all branches of the US military and their bases. We have held many job fairs on US bases and provided marriage retreats, welcome home parties, and employment counseling and placement. HirePatriots has personally employed tens of thousands of US veterans through our program and by working closely with company HR teams.
     Work Ready Hiring Events: We pre-qualify US veterans for your open positions. We educate them about your business, the job for which they are applying, and make sure that they are 'work ready' before introducing them to you. We host these introductions at a facility on or near a US base; or, we host these online. You will have the opportunity to give a 15-30 minute presentation about your company and its open positions and then to interview each pre-qualified candidate for hire.
Veteran Hiring & Retention Program: With the assistance of several key US military human resource personnel HirePatriots has developed a comprehensive plan for businesses that develops a veteran hiring and retention program within their company. One of our H.R. experts will be assigned to you and work intimately with your HR staff.
Head Hunting: When you are searching for a specifically qualified candidate, we will use our well-developed, nationwide resources, job board and social networks to find the right US veteran to fill that important position.
Job Board: HirePatriots.com provides a state of the art Careers job board. It receives hundreds of views everyday by job seeking US veterans. For companies with a large amount of employment opportunities, we can give you unlimited job postings and even link to your own job board so that they post automatically.
Search Engines & Social Networks: Our blog posts are read by over 100,000 people a year. HirePatriots will create blog posts about your company with links back to your corporate site: Share job openings, pictures, videos and more with a permanent sub domain or pages on HirePatriots.com. Each post is individually key worded for maximum SEO.
P.R. & Marketing: Associating your company with HirePatriots has tremendous advantages. Our multiple, prestigious awards, major media coverage, many thousands of monthly visitors, and our stellar reputation reaps considerable rewards: Increased popularity, a competitive advantage, more online and physical clientele, sales and profits are just some of the results you will receive.
HirePatriots offers all of the standard online marketing options. But we always seek for better ways to provide a valuable service to our sponsors.
Community Program: HirePatriots' unique strategy involves creating hundreds of community chapters across America. We build customized HirePatriots.com websites for these areas and coach them on how to get our program started in their location. And we have a book,The Patriotic Business Plan: Strategies for Sensational Success, which gives a step-by-step plan for doing so.
Each of these chapters help hundreds of people every month: active duty military, veterans, residents, school children, seniors and businesses. The goodwill and appreciation for sponsoring a chapter is immensely valuable. It creates brand loyalty and grassroots word of mouth recommendations and endorsements.
As a result of your increased popularity in these communities, local newspapers, TV and radio will come knocking on your door. In Oceanside, CA where we got started, all of the local News stations and newspapers have featured HirePatriots numerous times and continue to do so. We have received millions of dollars in free advertising. You can too.
HirePatriots is a media darling. Our program stimulates local economies; provides a patriotic program for local schools; helps senior citizens; and creates an employment safety net for their local US military, veterans and their spouses. It does all of this for free. – It makes a great local and national news story!
Events: Our charity hosts several events and fundraisers every year. Our sponsors receive premier banner placement on our website, mention in our newsletters, press releases, and mention on all TV, radio and newspapers interviews.
One of the most important events we hold are our free, 3 Day Military Marriage Retreats. Military marriages suffer the highest rate of divorce in the country. The hardships they endure while serving our nation are sometimes too heavy to bear. Combat stress also plays a large part of these break ups.
Our founders have been holding marriage retreats for decades. They have learned simple methods for bringing lost love and intimacy to life again. And their decades of experience in counselling veterans has been critically important to saving these marriages and families.
Veteran Green Projects: This unique program trains, employs and certifies US veterans as e-waste recyclers. Electronic waste is a major, global ecological crisis. It is a huge growth industry brought on by necessity. Through Veteran Green Projects we are selecting US veterans to develop, manage and run our training and recycling warehouses across the country.
Companies donate their e-waste to HirePatriots. We hire US veterans to pick it up, recycle and monetize it. Companies receive a receipt for the value of the e-waste they donated.
Corporate Social Responsibility: Please consider sponsoring Patriotic Hearts and HirePatriots and include us in your annual CSR giving. For $25k a year or more, companies receive all of the above.
At your service,
Mark Baird
760-730-3734
People Magazine's "Hero Among Us" 
Share us on