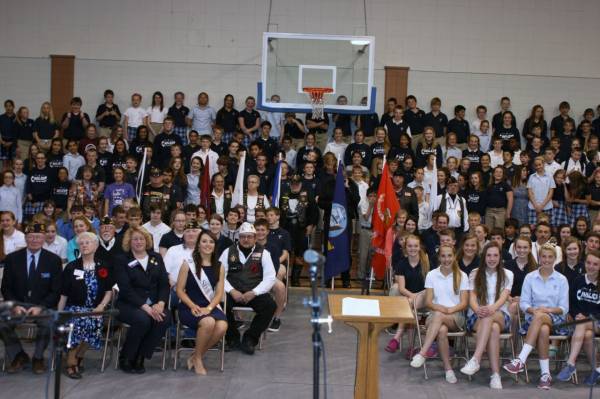 Thank you, HirePatriots for honoring our military heroes and for sharing the legacy of the U.S. military with our younger generation as a sponsor of this public event. During National Military Appreciation Month, we ask Americans to remember the important role of our U.S. Armed Forces in the history and development of our country, lending an ideal time to honor St. Thomas More Middle School of Rapid City, South Dakota as top-fundraiser for being the school to collect the most relief items. These relief items were contributed to the second-annual Veteran's Holiday Relief Drive, founded and organized by Autumn Simunek, Miss Siouxland. This relief drive has raised over $20,000 in relief items and monetary donations, benefiting Veterans, service members, and military families across South Dakota. The Volunteer of America, Dakotas' Outreach and Berakhah House of Sioux Falls, The Cornerstone Rescue Mission of Rapid City, The American Legion Post 15 Veterans Build – Housing Program, and local VSO Offices received the contributions to distribute. The school was awarded with a U.S.A. Flag and flag pole, sponsored by the Post 15 Veterans Build. The Veteran's Holiday Relief Drive was successful due to many, great people who appreciation and honor our military heroes, and due to many partnerships. To read more about it visit these two links:
https://www.facebook.com/#!/media/set/?set=a.616892751713733.1073741886.437870749615935&type=3
http://www.blackhillsfox.com/201405165626/flag-ceremony-held-at-saint-thomas-more.
Share us on