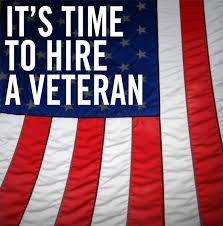 In addition to posting your open positions on HirePatriots' very popular and technologically advanced "Careers" job board, and on search engines and social networks, plus attending our job fairs, HirePatriots goes the extra mile and provides a personalized recruiting service for your company. We will contact T.A.P. classes on local US military bases and invite transitioning US veterans to attend a seminar about your company and its job openings. We will pre-qualify the candidates we send your way. Then we will hold follow up seminars after you hire these veterans to help them acclimate to your company and increase the retention of the candidates you choose.
No other non-profit or recruiting company offers a more comprehensive and well-rounded approach to finding the right employees for you.  
HirePatriots has been assisting companies with hiring US veterans for 10 years. We know the ins and outs of filling your positions with the veterans who are excited about working with you and who share your company's core values.  And we know of multiple government programs that will fund the training of the veterans you hire.
HirePatriots saves you money and often even makes you money when you choose us as your veteran recruiting source.
At your service,
Mark & Tori Baird
CEO: HirePatriots.com
Chairman: Patriotic Hearts
mark@hirepatriots.com
760-730-3734
People Magazine's Heroes Among Us
Past Chairman: CA Economic Council
Past Secretary: United Veterans Council
From President Bush: The Congressional Medal of Merit
From President Obama: President's Volunteer Service Medal
From San Diego: The Visionary Award for Creating Economic Development
From the Chamber of Commerce: The Extra Mile Award
From ABC TV: The Leadership Award
From U.S. Veterans & Families: Liberty
Author: An American Crisis: Veterans' Unemployment
Author: The Patriotic Business Plan: Strategies for Sensational Success
Share us on