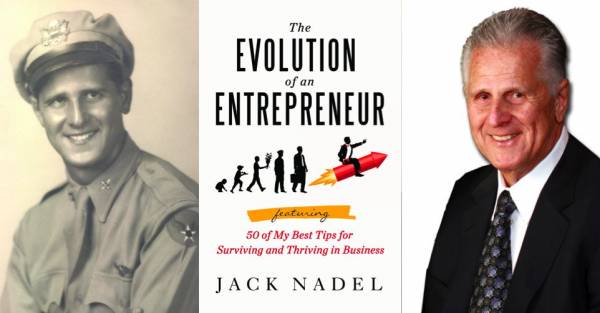 Veteran Ventures is honored to announce Jack Nadel will be a guest author for us over the next few months.  Jack Nadel is not only an Award-Winning Business Author, Entrepreneur, Philanthropist, and Founder Jack Nadel International.  He is also a columnist for the Huntington Post.
His story is absolutely amazing and should serve as an inspiration to Vetrepraneurs everywhere.  He is an example that it doesn't take a truck load of money to get started in business.  It takes a good Idea and execution.  His book Evolution of an Entrepreneur is being offered to the first 10,000 vets for free and is well worth the read.  It tells you his story as he ventures into business over decades and also give sound advice with his Nadel Method and the 3 R's of Business Success.  You may find his book from his website: http://jacknadel.com/business-books/the-evolution-of-an-entrepreneur/
We are delighted to have built a relationship with Jack over the past few months and couldn't be happier to have him provide some valuable business advise to our vets here at Veteran Ventures.  In business its important to consider the source where you get advice from.  We can think of no better mentor to our vets, than a decorated WWII vet and world class entrepreneur; Jack Nadel.  If you don't know Mr Nadel, then you don't know Jack!
Thank you Jack! I eagerly look forward to your articles.
Join us at Veteran Ventures and be a witness to Jacks knowledge.
You may find a bio of Jack here on Veteran Ventures http://www.veteranventures.org/guest-authors/
You may follow Jack:
Share us on