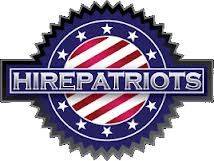 HirePatriots creates multiple and consistent employment opportunities for US military, veterans and their spouses. It has won awards from both US Presidents GW Bush and Obama. People Magazine selected HirePatriots as their Heroes Among Us and veteran hiring initiative.  HirePatriots has also received the Visionary Award for stimulating local economies. And it has been chosen by GI Jobs as one of the top 50 Most Military Friendly Companies in America.
HirePatriots is bringing its unique veteran employment program to every major metropolitan area that has a significant US military and US veteran population. It begins with providing the region a free website and job board for its residents to hire men and women serving on local US military bases when they need help around their homes and property with chores and repairs. We make the blogging section of the community accessible to teachers in local schools as a publishing platform for student essays, pictures, reports, videos and stories about their community, history, events and particularly anything that relates to US veterans, history, America and patriotism.
HirePatriots creates job fairs for regions' local job seeking veterans. HirePatriots works closely with area businesses that have open positions by providing qualified US veterans to fill their positions.
HirePatriots leases an office in each location it establishes. We also lease a warehouse with no less that 5000 square feet that has a loading dock. This warehouse space permits HirePatriots to employ US veterans for its Veterans Green Program. This program receives electronic waste donations from local businesses, schools, organizations and residents. HirePatriots employs and trains veterans to pick up, store, breakdown, recycle and monetize this waste. Once the value of the donated waste is determined donors receive a certificate of donation for its worth for tax purposes and to show their participation in assisting HirePatriots in employing US veterans.  The net profits from these donations go to providing additional programs for local military, veterans and their spouses through Patriotic Hearts (a 501c3 non-profit), and local charities involved in similar efforts.
The HirePatriots program employs thousands of US veterans every year. It stimulates local economies and helps residents, senior citizens, businesses, organizations and students. HirePatriots provides a strong, clarion voice as advocates for US veterans' value and position in our country. HirePatriots assist US veterans to successfully reintegrate into society and to provide for their families and contribute to their communities.
Mark Baird
Share us on